Isn't Twitter for Politics and Arguments?
Yes.
And, it doesn't have to be.
I've made some great professional connections on Twitter.
And in my community of Portland, Oregon, the startup community is particularly active on Twitter. So it's wise for me to be active on Twitter to stay abreast of events and updates and meet new people.
When I teach digital marketing to groups I typically don't recommend Twitter because it's easy to be a drop in the ocean.
The average lifespan of a tweet is about 5 minutes, which means you need to tweet more to make an impact.
That doesn't mean you shouldn't set up your business and personal profiles. Especially now that Twitter has started rolling out spotlights to help your customers find your location, buy your products, and subscribe to your newsletter.
Take advantage of the real estate Twitter gives you, even if you don't use it as your business' primary social channel.
Set up Twitter for Professionals
When you set up your business' Twitter account, turn on Twitter for Professionals. Like an Instagram Business Profile, Twitter for Professionals adds extra business features.
To set up Twitter for Professionals, click on the more button from the menu: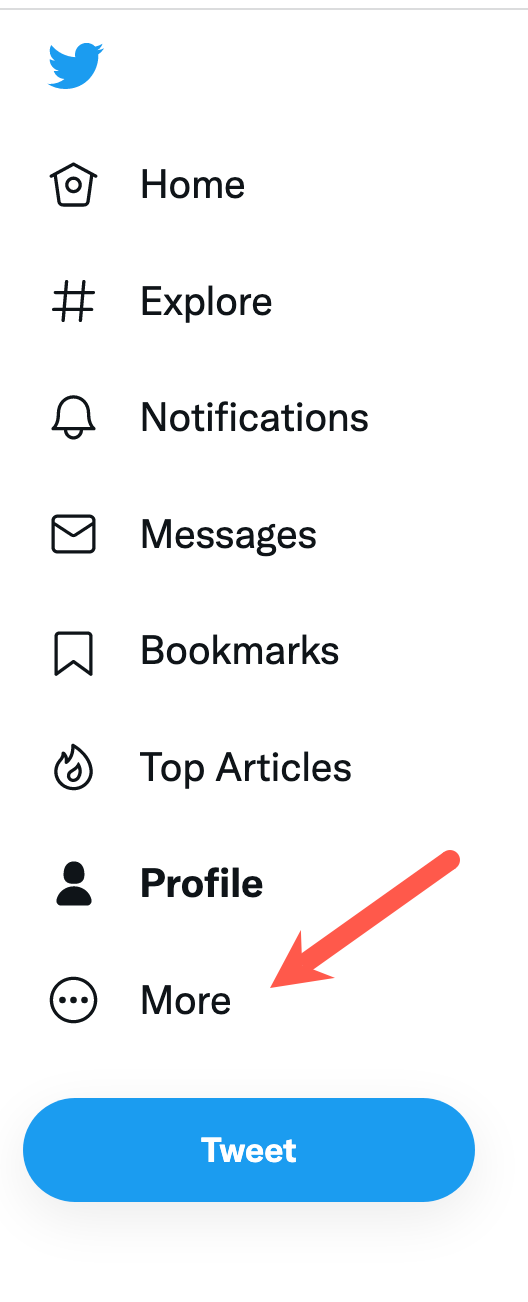 Then, Click on Twitter for Professionals:

This will open up additional options for growing your brand on Twitter: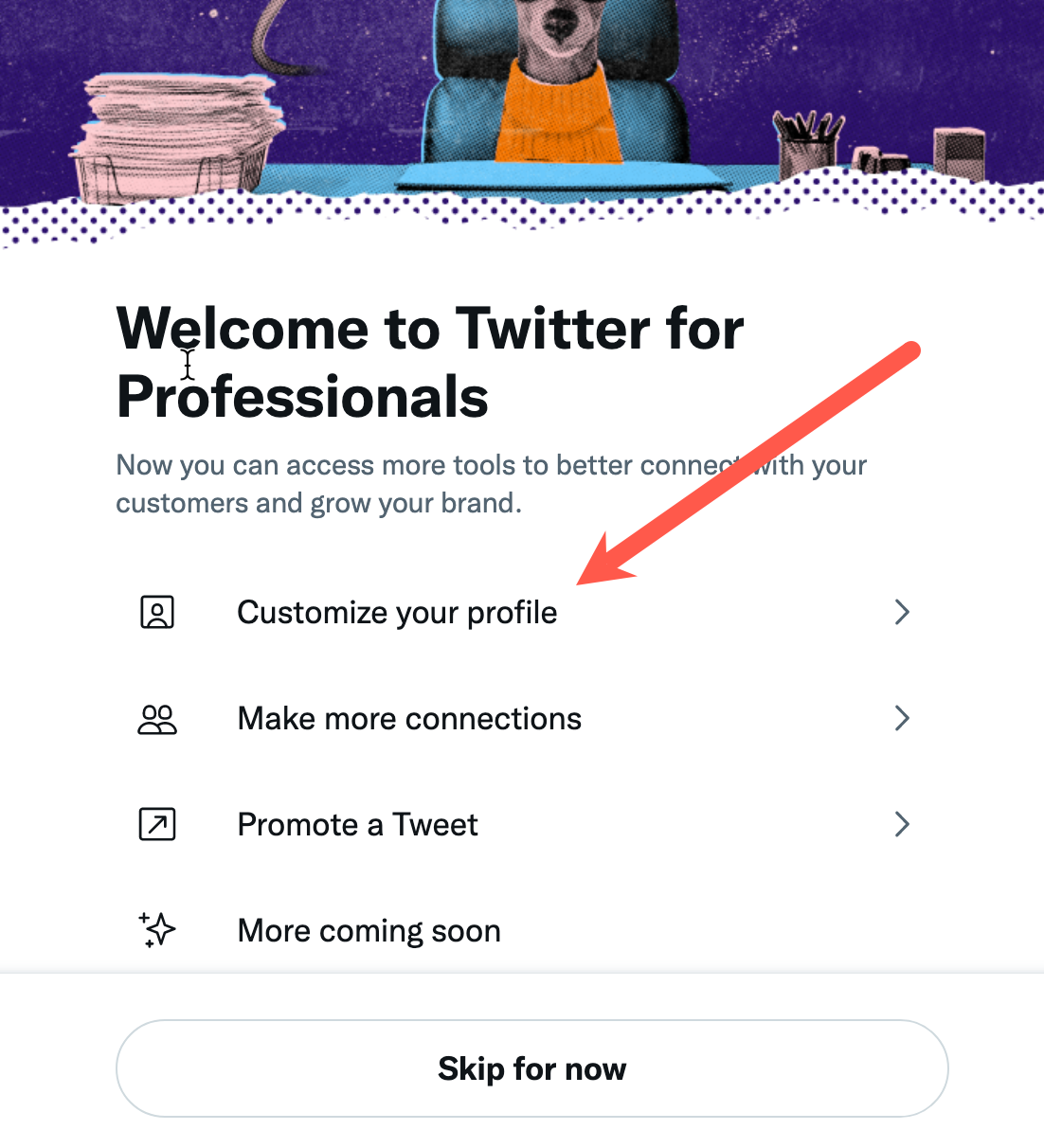 After this initial setup, you can access your Twitter for Professionals profile by clicking 'Edit Profile.'
Your Twitter for Professionals profile includes:
Category: choose the closest business category
Toggle to display category: Decide whether to display the category publicly
Profile Spotlight: decide which links you want to show on your profile
The category and Profile Spotlight will help you in Twitter search and connect potential customers to important information about your business.
Choose Your Profile Spotlight
You have three options for your professional profile spotlight:
Location: display your website, address, hours, and contact information (great for local businesses)
Shop: display up to 50 products, including image and price (great for Ecommerce businesses)
Newsletter: newsletter subscribe button displays on your profile (great for businesses/leaders actively engaged in building professional relationships on Twitter)
If your profile doesn't have all three options yet, it's because Twitter continues to roll it out to all users.
Location Spotlight: Brick & Mortar
The Location Spotlight gives profile visitors your business' website link, address, business hours, and contact information.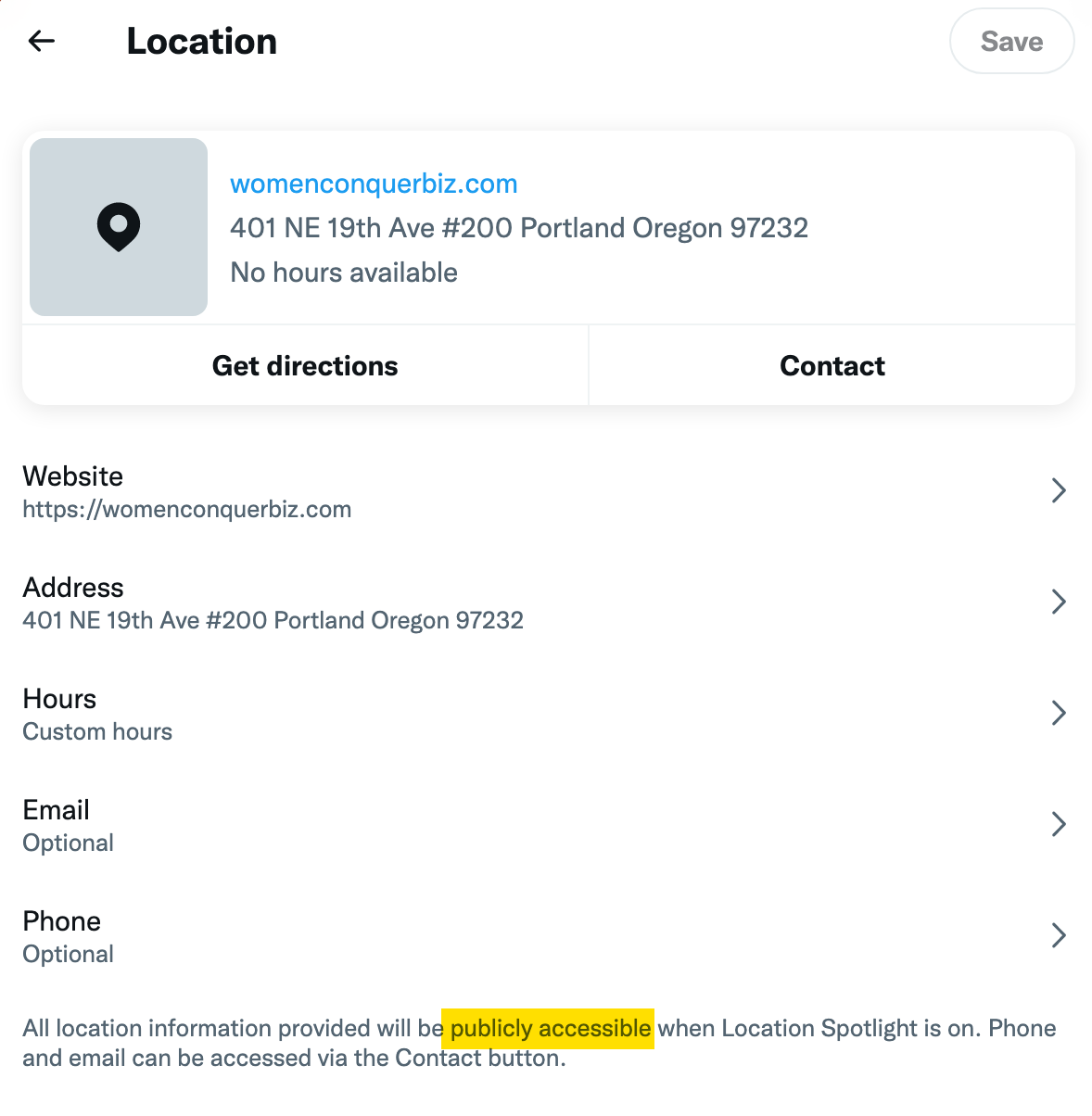 It's like a scaled-down Google Business Profile.
If you have a brick-and-mortar location, I highly recommend this option as it will expand your digital footprint.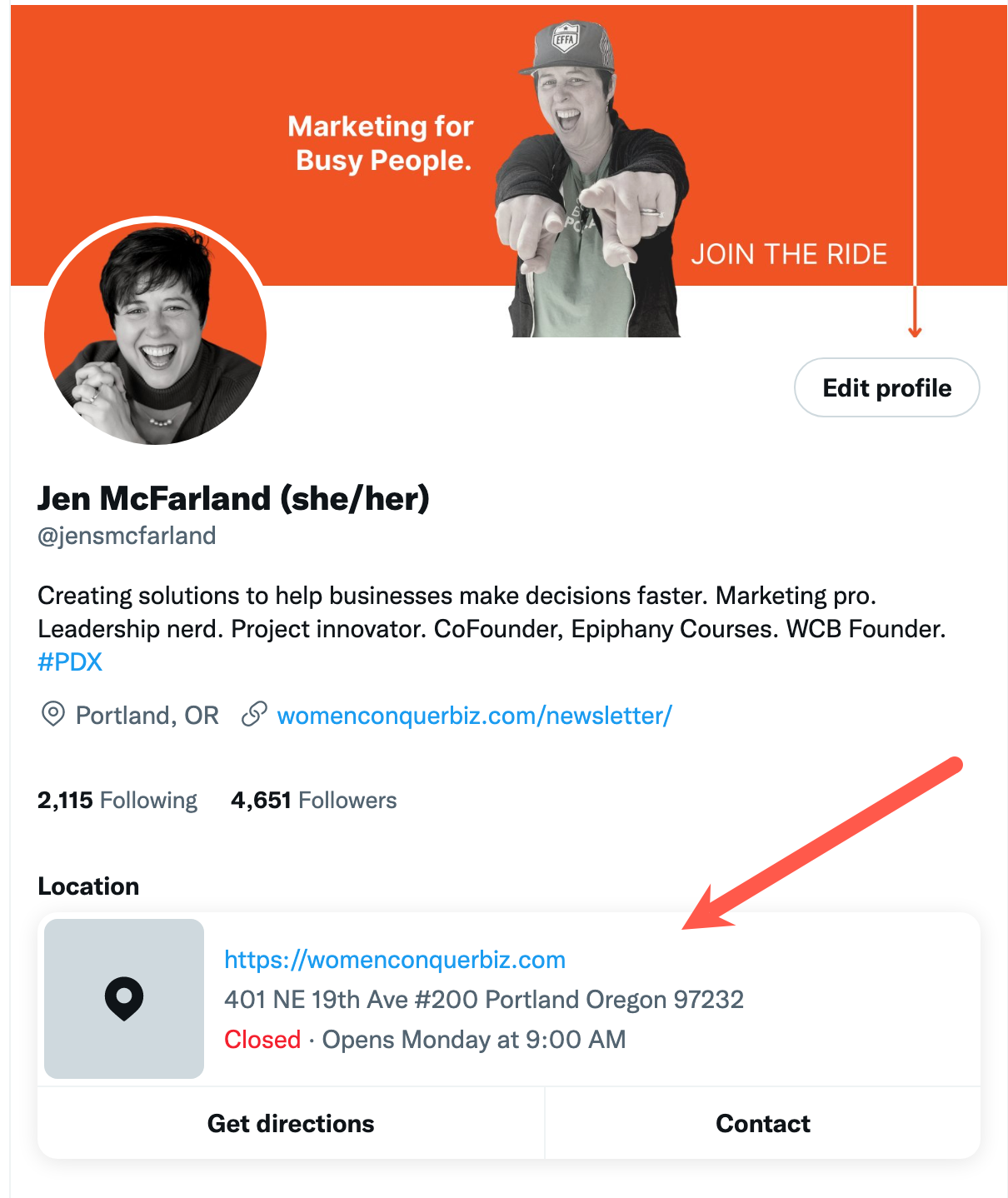 Here's how to add your location spotlight:
Click 'Edit Profile'
Scroll to the bottom, and click 'Edit professional profile'
Click 'Profile Spotlight'
Under location, click 'Create'
Add your business location information
Click 'Save'
Toggle on 'Location,' and it will appear on your Twitter profile
Shop Spotlight: Ecommerce
Do you have online products?
Display your course, services, products on your profile to guide visitors to your store. Twitter Shops is still being rolled out, but eventually, you'll be able to add up to 50 products to your profile.
Here's an example of a product displayed on a mobile Twitter profile: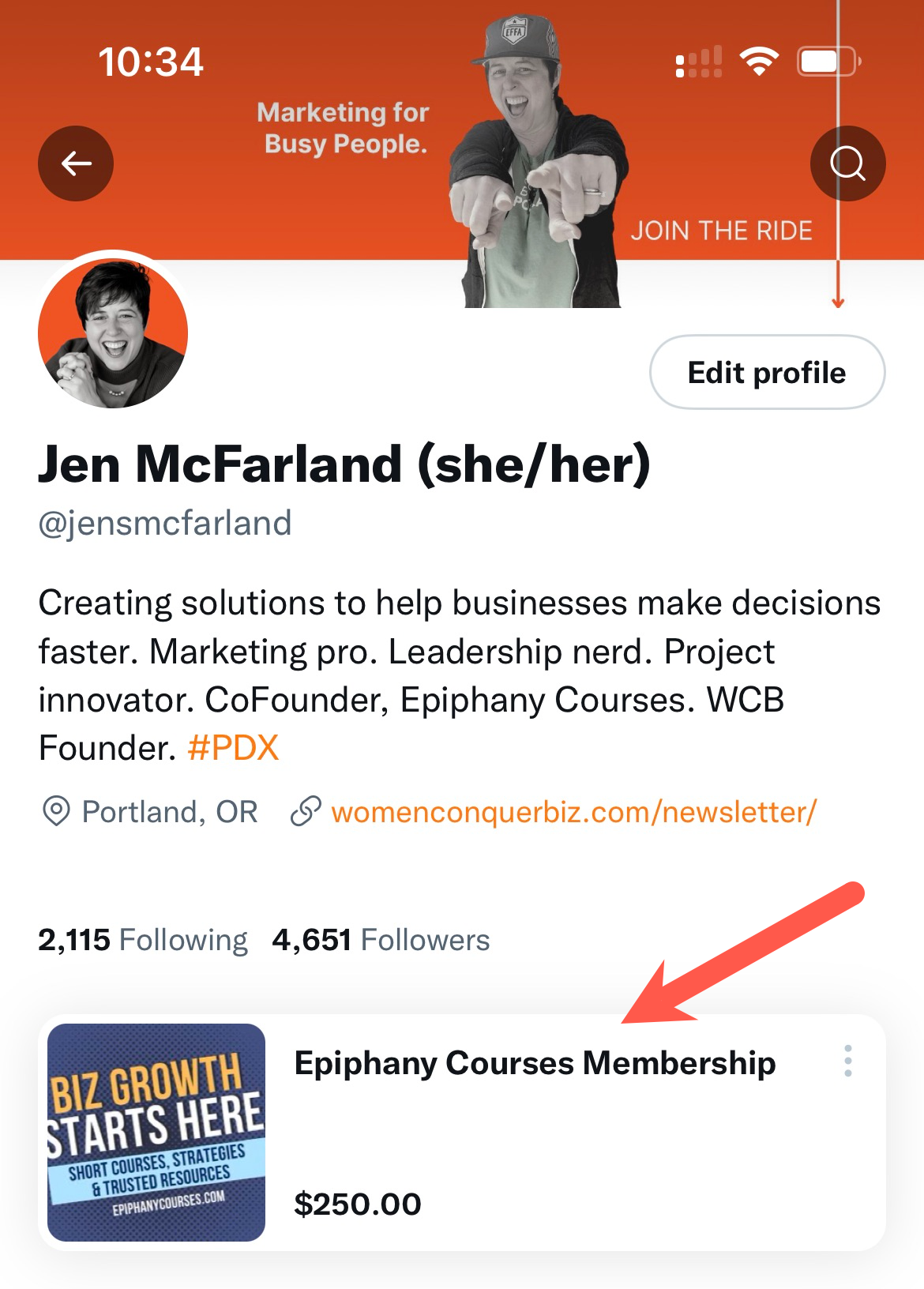 To get all the bells and whistles to work, you'll need to set up your catalog at https://ads.twitter.com/shopping_manager.
In the Shopping Manager you can add products and product sets which affect how it displays in your profile. The Shopping Manager is also where you add or edit future products.
Once you have your products set up, go to your Professional Spotlight, toggle on Shop, and it will appear on your profile.
Newsletter Spotlight: Active Twitter Users
If you're an active Twitter User, this is the option for you.
Turn your pithy comments into an opportunity to attract newsletter subscribers.
Here's an example of a profile with the newsletter spotlight option turned on: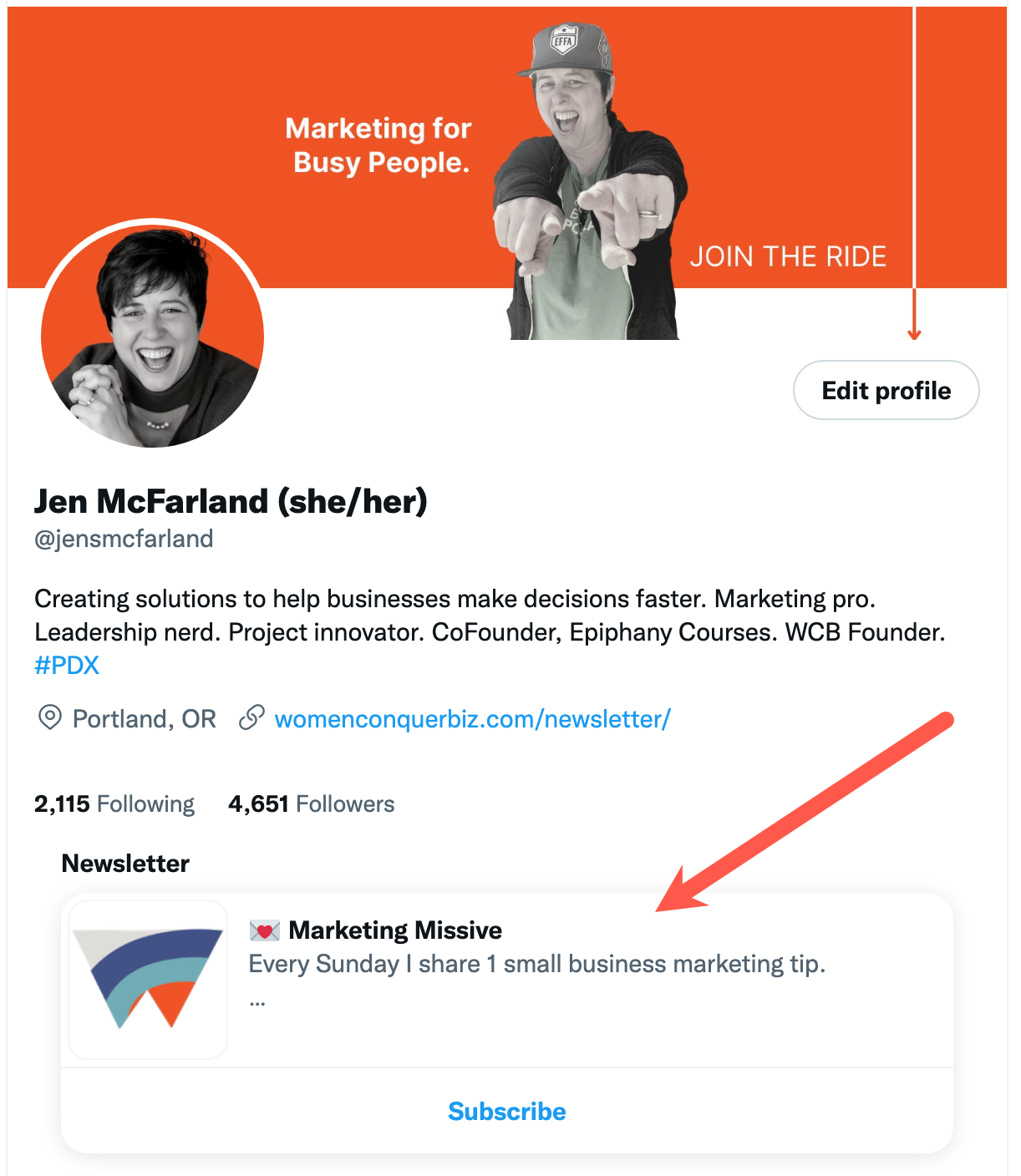 It's a little tricky to set this up (but worth it!).
Turn on Twitter for Professionals
Get Twitter's newsletter app, Revue (sign up and sign in with the Twitter handle you want to use the newsletter spotlight)
To connect Revue to your email marketing provider (e.g., MailChimp, ActiveCampaign, etc.), go to the Account Settings > Integrations. You can connect MailChimp directly, or use Zapier and your API key (at the bottom of the Integrations page) to sync Revue subscribers with your list
Go to your Professional Spotlight, toggle on Newsletter, and it will appear on your profile
Test the subscribe button and sync to your email list
---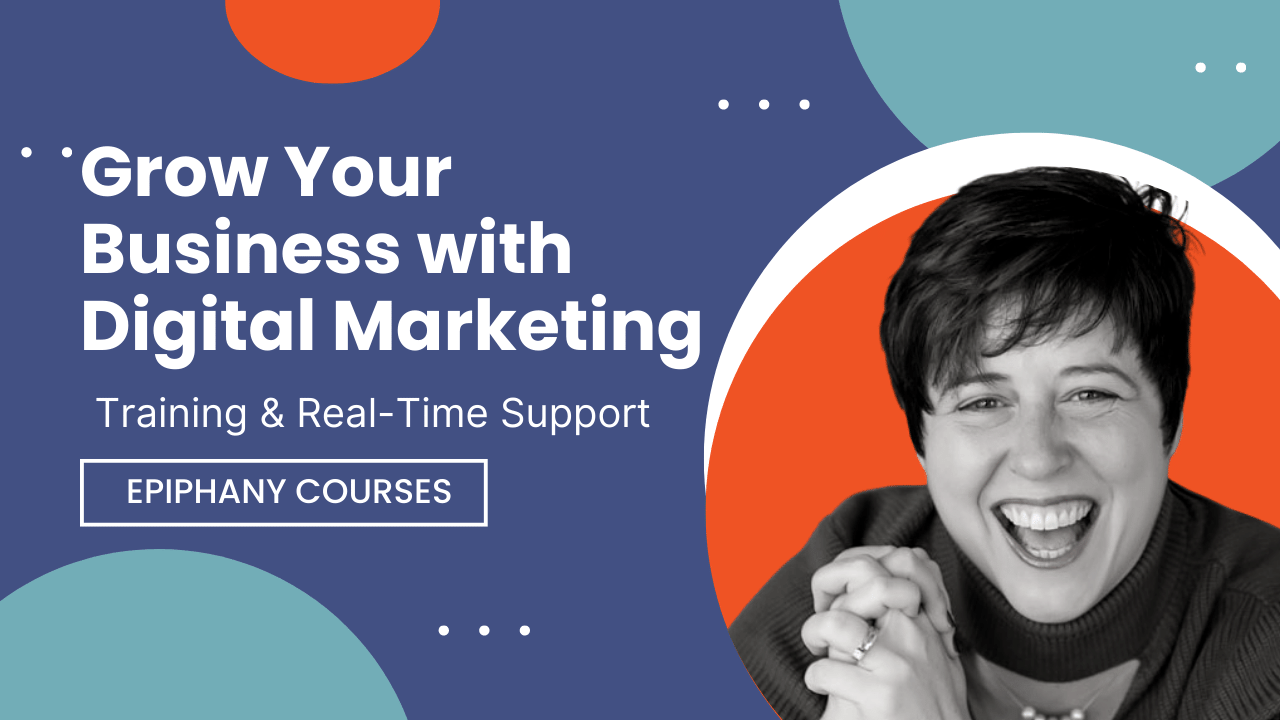 Grow Your Business with Digital Marketing
Epiphany Courses Membership - 20% Off
For service-based businesses with big hearts and small budgets. Lock in your low introductory membership rate (reg. price $25/month or $250/year).
Live monthly Q&As
Live Marketing Training
Content parties
Access to all courses
Direct access to Jen
Interactive private community (not on social media)
Learn more at Epiphany Courses.
20% Off Annual Subscription
---
Podcast Guesting: Be a Great Guest and Promote Your Business
Shelley gives us the scoop on how to find and reach out to podcast hosts. Learn how to be a great guest, find the RIGHT podcasters to collaborate with, and why promotion is the key to success.
Live YouTube broadcast every Thursday at 10 AM Pacific — bring your questions! Or, subscribe for podcast episodes released every Friday morning.
---
💌 That's a wrap for this Sunday.
If…
You enjoyed the newsletter, please share it.
You have a question or comment (or want to say hi!), hit reply.
See you again next week.
Have a great day,
Jen
P.S. Ready To Work Together? Here are 3 ways to receive support:
Marketing Consulting, confidence-boosting guidance with a patient teacher, action-oriented goal-setting, and accountability in a safe, confidential space.
Get a Marketing Blueprint to position your business for future growth.
Join my Marketing Membership because marketing alone stinks — set your goals, get support, and dedicated time to work.