Updated: September 7, 2023
I love apps. I tested and helped develop apps at the corporate level. I guess I've never stopped testing (and buying!) cool stuff. Now you get to explore my fave tools and tech.
FYI: this page includes affiliate links. If you click and purchase, I may receive a small commission at no extra cost to you. I only recommend tools I've used and love. I've noted affiliate links with an asterisk (*). Read our
disclaimers
.
✨ Fave Apps
My Tech Stack
📬 Email Marketing
MailerLite* is what would happen if ConvertKit and MailChimp had a baby (only cheaper and easier to use). After significant testing, it's the bread-and-butter for the membership, courses, newsletter, and more.
I moved off ActiveCampaign* because of its recent price increase paired with a decline in customer service. It's a great product, but I wasn't maximizing the features enough to justify going from $50/mo. to $400/mo.
I closed the CRM gap with Practice.do*, which has streamlined my process and helped me communicate better with consulting clients.
🏫 Courses & Community
Most robust learning management system (LMS) outside of WordPress: Learnworlds*: massive integrations, courses, live events, coaching/appointments, ebooks, SCORM, and corporate/group seat management.
If you're a solopreneur, Podia* is an excellent platform for creating and selling courses.
Trusted Marketing Advice
Subscribe to our weekly newsletter.
SIGN UP
🎧 Podcasting
Hosting
I 💯 recommend Captivate* ⭐⭐⭐⭐⭐ Customer service
Editing
Mics
🎥 Videos
💎 Social Media Scheduling
Lately.ai uses artificial intelligence to help you not only write and post content, it's a dream for content creators (podcasters, YouTubers, etc.) who want to share clips of their work. Lately.ai will edit and generate video or audio clips to accompany your posts. 🤯🤯 CoFounder Kate Bradley Chernis shared startup and writing secrets on the Women Conquer Business podcast.
MissingLettr*: I LOVE the Curate feature, which allows other creators to share my content with their audience. I interviewed the founder, Benjamin Dell, on my podcast.
🌐 Web Tools
Platforms
Plugins, Hosting & Security
Shopping Carts:
Studiocart* Studiocart creates sales funnels in WordPress. It's also founded and operated by Nicole Evans, a woman of color, which is awesome! 👏
Thrivecart* Thrivecart creates sales funnels for Women Conquer Business
Search Engine Optimization:
RankMath, its free version, is full-featured and easy for the layperson to understand
Hosting:
Siteground* I've used Siteground for years. Wordpress.org recommends Siteground
Security:
If you're on WordPress, you need some form of security. Sucuri is a great platform and service I've used in the past (and with clients). Most small businesses only need firewall protection. If you've been hacked, or want heightened protection get the website security plan
🗄️ Ultimate Space-Saving Desk Setup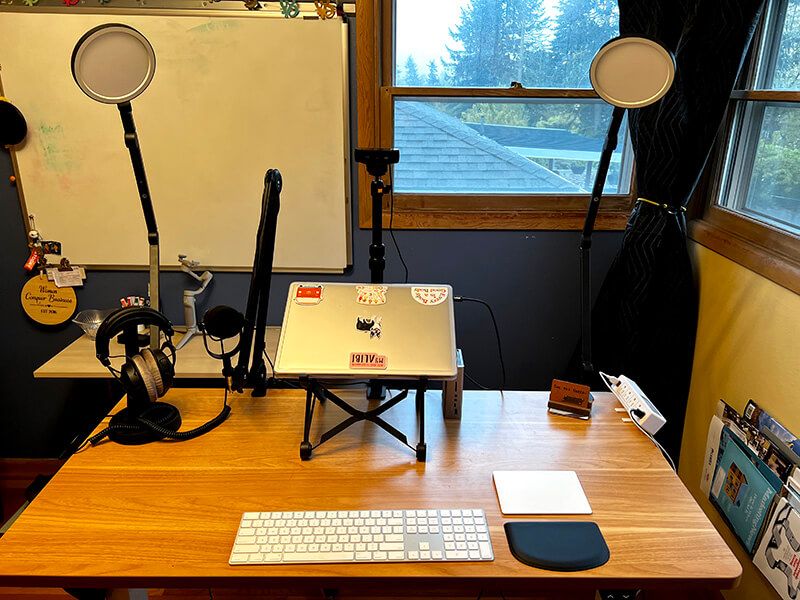 If you're curious about the space-saving desk setup I'm currently using, I've included it below.
Why? Because I suspect many of you don't have my patience — nay, stubbornness, curiosity, and budget — to try numerous configurations for three years. I know, I know...
Here's what I'm working with:
Room size: 8' x 10'
Desk size: 48" x 24"
Computer: 16" MacBook Pro, laptop stand, Trackpad, Keyboard with Numeric Keypad
Misc: Podcast mic, webcam, lighting for video calls and streaming
I wanted space to work at my desk WITHOUT giving up access to my whiteboard, closet, or office windows.
Here's how I did it: