Table of contents
I love apps. My business partner says I have an app "problem." Guilty as charged! I tested and helped develop apps at the corporate level. I guess I've never stopped testing (and buying!) cool stuff. Now you get to explore my fave tools and tech.
FYI: this page includes affiliate links. If you click and purchase, we may receive a small commission at no extra cost to you. I only recommend tools I've used and love. I've noted affiliate links with an asterisk (*). Read our disclaimers.
✨ Fave Apps
I use these almost daily
📬 Email Marketing
ActiveCampaign* (right now) is the best email marketing platform for Women Conquer Business and Epiphany Courses. I am also a fan of MailChimp (great integrations), Revue (capturing subscribers from Twitter), and Ghost.
🏫 Courses
Teachable* we 💙 Teachable for Epiphany Courses because it easily integrates with AppSumo and allows for multiple teachers.
And... I also 💙 MemberVault!! The gamification and binge & buy features are amazing. I've never seen a company care so much about its customers. I love it so much that I'm a Certified Partner.
🎧 Podcast Tools
Hosting
I 💯 recommend Captivate*. They're constantly adding new functionality like show notes templates, podcast episode planning, and dynamic ad insertion. ⭐⭐⭐⭐⭐ Customer service.
Other podcast hosts for business include Transistor and Buzzsprout.
Editing
Mics
🎥 Videos
Cameras
Editing
Camtasia: editing + pulling video clips together
Descript: editing + removing filler words + transcript
💎 Social Media
Lately.ai uses artificial intelligence to help you not only write and post content, it's a dream for content creators (podcasters, YouTubers, etc.) who want to share clips of their work. Lately.ai will edit and generate video or audio clips to accompany your posts. 🤯🤯 CoFounder Kate Bradley Chernis shared startup and writing secrets on the Women Conquer Business podcast.
MissingLettr*: I've used it for years to quickly generate social media campaigns for blog posts. I absolutely LOVE the Curate feature, which allows other creators to share my content with their audience. I interviewed the founder, Benjamin Dell, on my podcast.
🌐 Web Tools
Platforms
Women Conquer Business: Ghost I 💙 its incredible publication features
Epiphany Courses: WordPress because of its flexibility
Plugins, Hosting & Security
Shopping Carts:
Studiocart* Epiphany Courses' shopping cart. We love the direct connection to Teachable

Studiocart creates sales funnels in WordPress. It's also founded and operated by Nicole Evans, a woman of color, which is awesome! 👏

Thrivecart I use Thrivecart to create sales funnels for Women Conquer Business
Search Engine Optimization:
RankMath its free version is full-featured and easy for the layperson to understand
Hosting:
Siteground* I've used Siteground for years. Wordpress.org recommends Siteground
Security:
Sucuri protects my business' digital assets. Most small businesses only need firewall protection. If you've been hacked, or want heightened protection get the website security plan
🗄️ Ultimate Space-Saving Desk Setup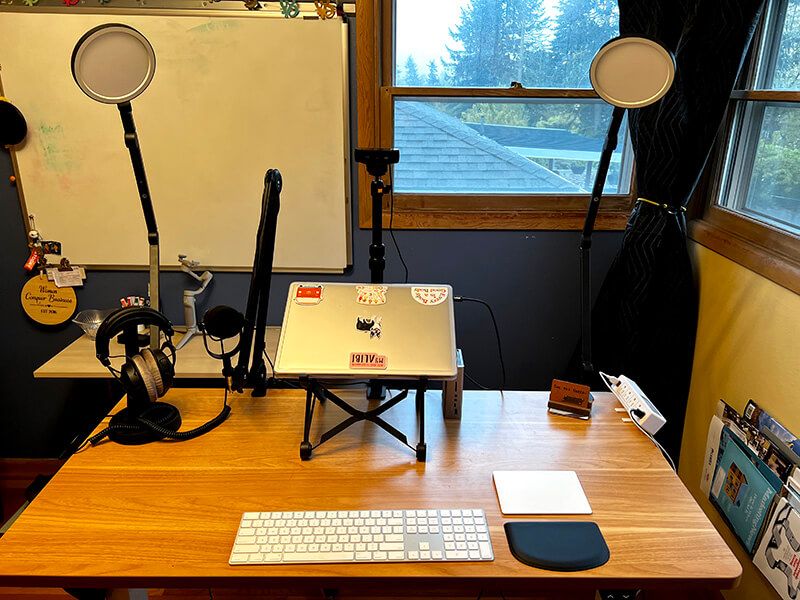 If you're curious about the entire space-saving desk setup I'm currently using, I've included it below.
Why? Because I suspect many of you don't have my patience — nay, stubbornness, curiosity, budget — to try numerous configurations for 3 years. I know, I know...
Here's what I'm working with:
Room size: 8' x 10'
Desk size: 48" x 24"
Computer: 16" MacBook Pro, laptop stand, Trackpad, Keyboard with Numeric Keypad
Misc: Podcast mic, webcam, lighting for video calls and streaming
I wanted space to work at my desk WITHOUT giving up access to my whiteboard, closet, or office windows.
Here's how I did it: