Zoom hopped on the AI express. Brace yourselves. It's ugly.
Here's a quick primer on how artificial intelligence works (for content, at this point):
You give the AI machine a bunch of information
The information 'trains' AI how to respond (machine learning)
AI then responds to questions, performs tasks, etc. based on what it's learned
Yes, it's more complicated, but roll with it for the sake of this conversation.
When you're using ChatGPT, it responds based on the data it's been fed (e.g., website scrapes, news, books, etc.).
As apps like Canva, Zoom, and Grammarly (along with a boatload of other apps) integrate (or create) AI engines into their offerings, as business owners, we must ask ourselves...
Where does all this information come from?
Well, Zoom wants it to come from you. They've updated their terms of service (section 10.4) to grant themselves the following:
perpetual, worldwide, non-exclusive, royalty-free, sublicensable, and transferable license and all other rights required or necessary to redistribute, publish, import, access, use, store, transmit, review, disclose, preserve, extract, modify, reproduce, share, use, display, copy, distribute, translate, transcribe, create derivative works, and process Customer Content and to perform all acts with respect to the Customer Content: (i) as may be necessary for Zoom to provide the Services to you, including to support the Services; (ii) for the purpose of product and service development, marketing, analytics, quality assurance, machine learning, artificial intelligence, training, testing, improvement of the Services, Software, or Zoom's other products, services, and software, or any combination thereof; and (iii) for any other purpose relating to any use or other act permitted in accordance with Section 10.3.
This means they can do whatever they want with your information, including machine learning, AI, distribution, you name it.
After receiving a ton of criticism, Zoom (likely its Legal Department) tacked this onto the end:
Notwithstanding the above, Zoom will not use audio, video or chat Customer Content to train our artificial intelligence models without your consent.
It sounds pretty cool. Like Zoom's saying, that thing you're worried about isn't a thing, OK?
Except that it's a massive contradiction from what they've just said: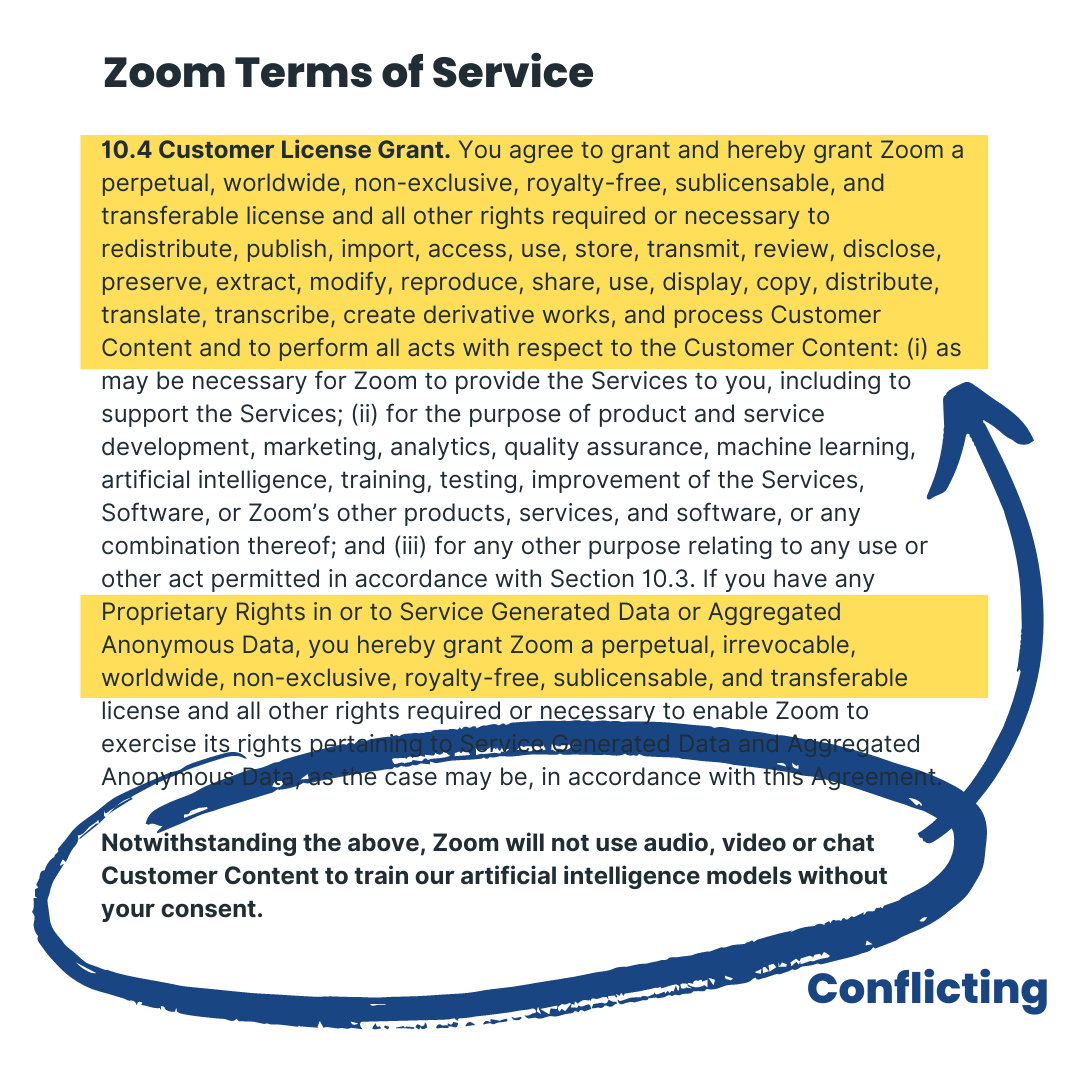 I'm no attorney, but here's an attorney who agrees with this assessment.
This paragraph is a CYA. You'll never know whether they're using your data... or not...
When it comes to terms of service, the devil's in the details. We rarely read them — especially for tools like Zoom that are in many businesses' daily rotation.
What It Means for Small Businesses
For many folks, it could be OK.
Not all meetings are earth-shattering, mind-bending screeds of intellectual property and confidential information.
But you may need to look elsewhere if you use Zoom for courses, memberships, mediations, and confidential meetings (not covered by HIPAA - if you use Zoom with a HIPAA agreement, this would be a huge violation, so you likely have no concerns).
Here are a couple of options:
Webex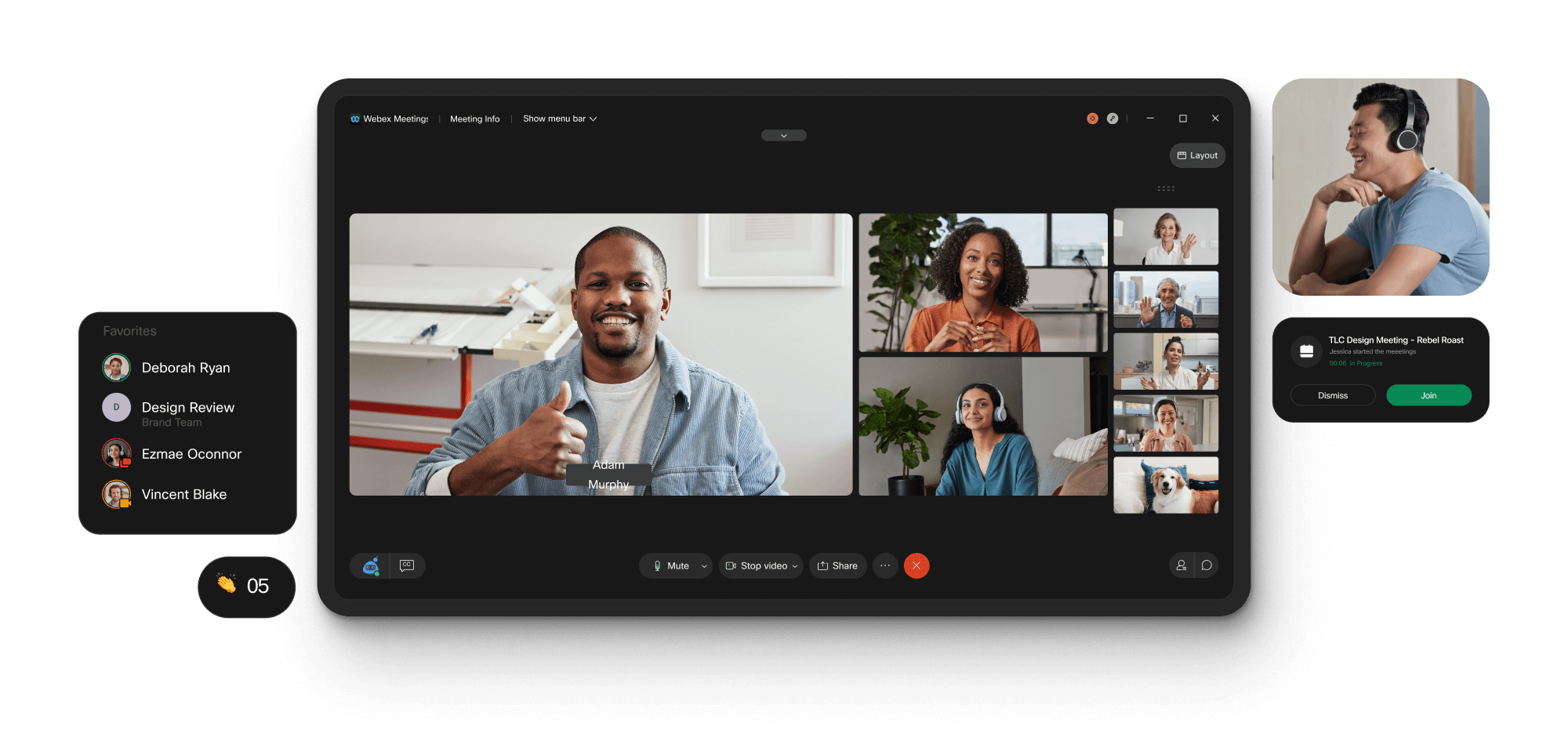 Webex offers competitive pricing plans, and it's unlikely to disappear as a Cisco product.
Our early testing of Webex has been promising.
GoTo Meeting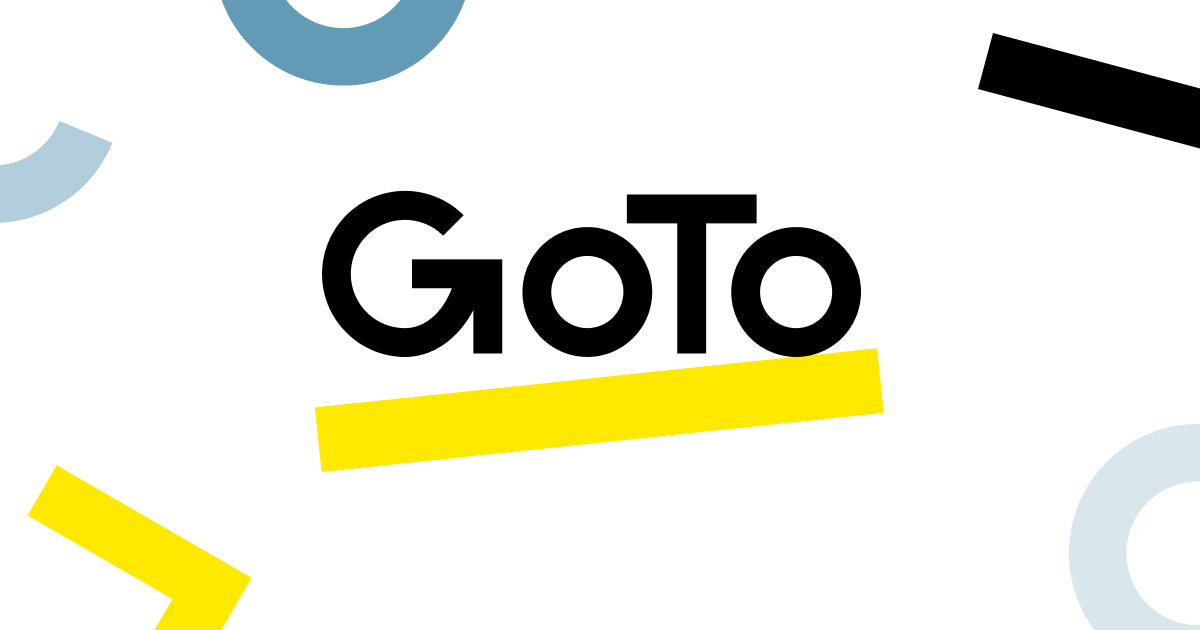 GoTo's pricing is slightly higher than Webex or Zoom, but it's a solid product developed by Citrix.
Sessions (AppSumo deal)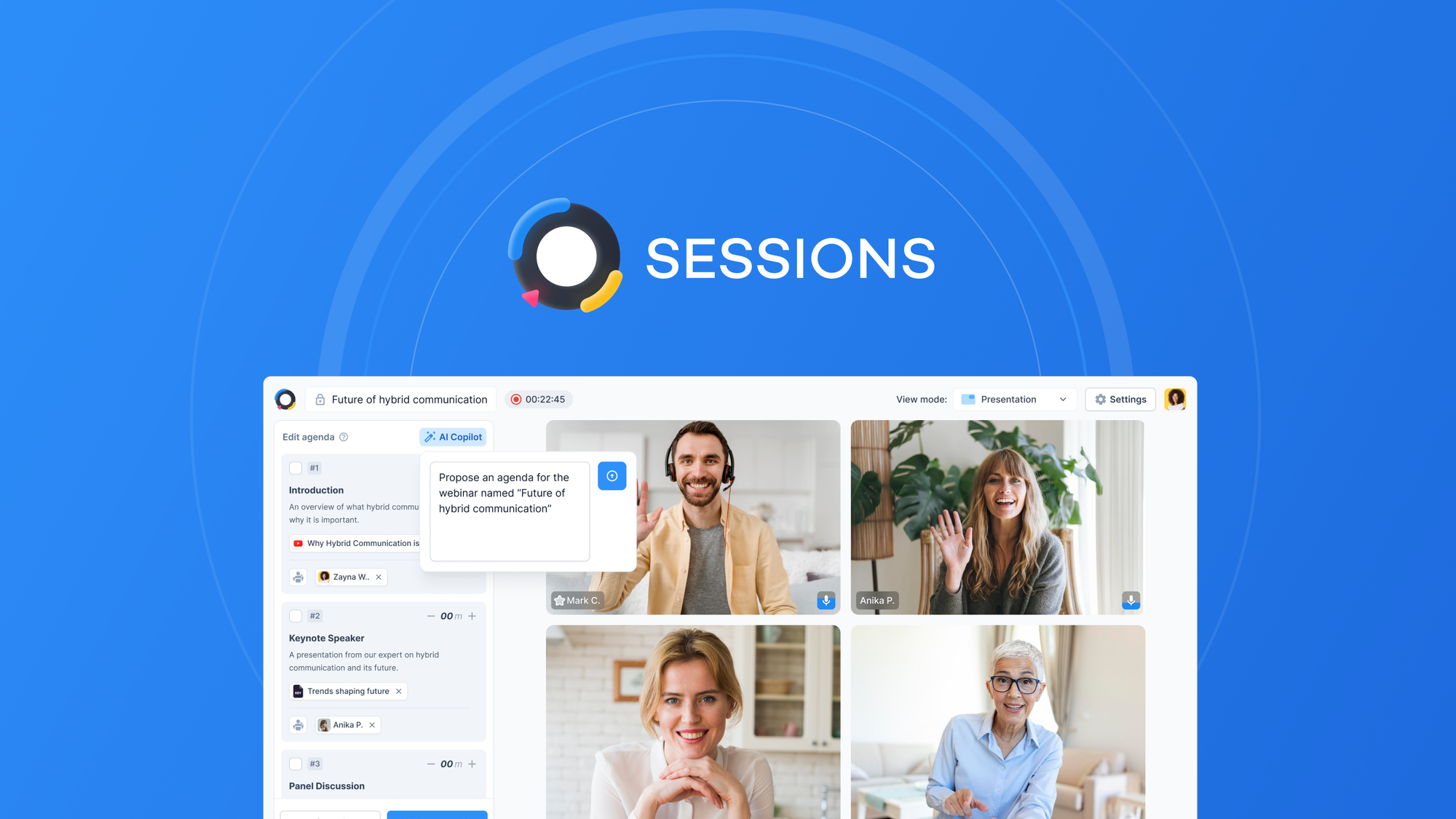 If you're not using Zoom daily as a core business function AND want to steal a deal, look at Sessions on AppSumo. Lifetime access is $49.
Microsoft Teams and Google Meet
There are also Microsoft Teams and Google Meet. Initially intended as internal communication channels, they have since evolved into outward-facing products. They feel like it, but they also work (especially if you're already paying for email/productivity software like Office 365 or Google Workspace).
Update #1: Zoom's Response, August 7
The Associated Press is reporting that Zoom's response makes it 'clearer' that the policy means that content users create can't be used for generative AI purposes but that all other data is fair game.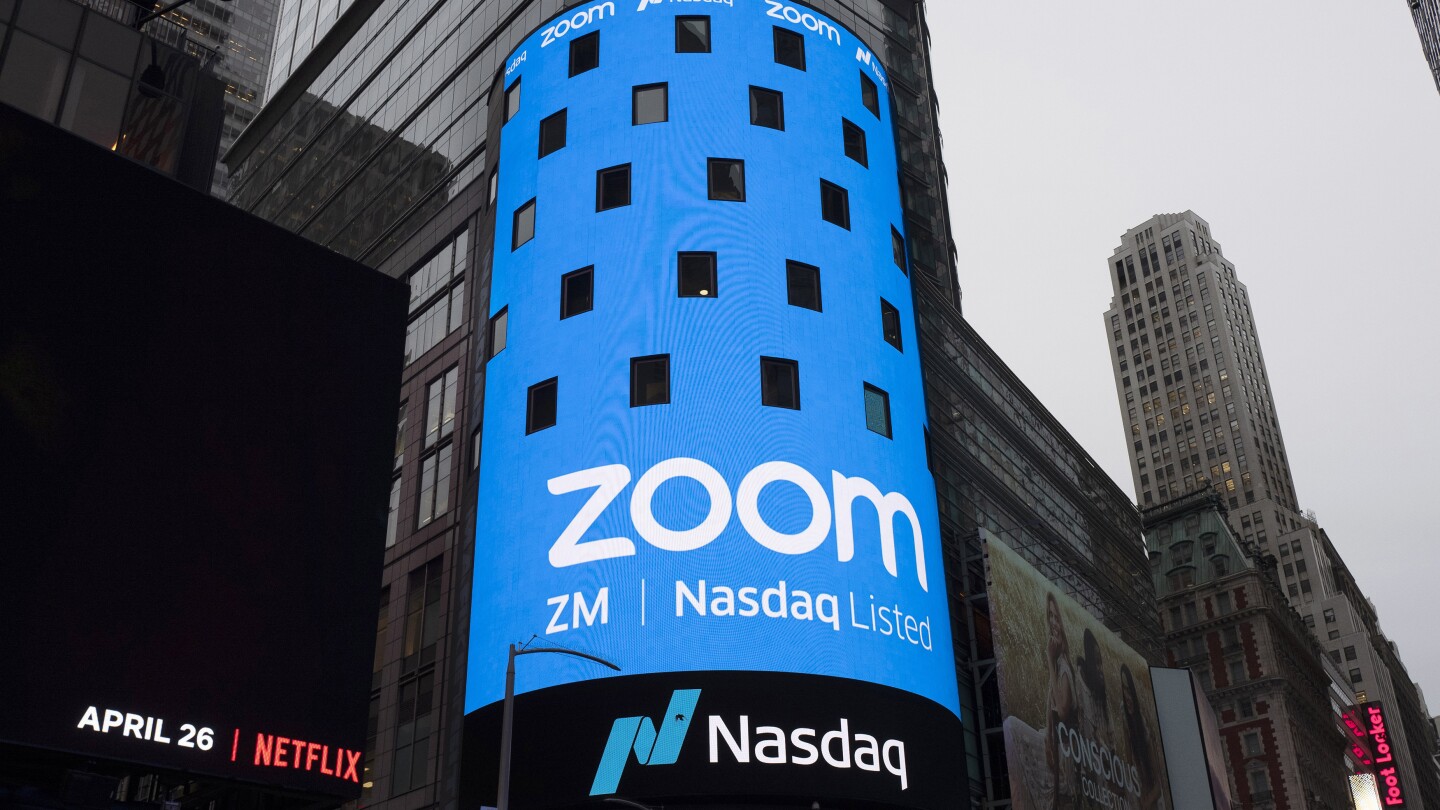 Now, the company states that if you toggle on the "Meeting Summary" feature AKA Zoom IQ, that will trigger the explicit consent for using generative AI with your account.
This is done at the admin level.
To check whether you have that feature toggled on or off, go to Settings, In Meeting (advanced) and look for Zoom IQ. Make sure it's toggled off.

According to the AP Article:
Zoom says that if a meeting organizer decides to use the meeting summary feature, participants are sent a notification alerting them that an AI feature has been enabled and that their data may be shared for AI training. They are prompted to either proceed with the meeting or to leave.
Is that really consent?
If I'm speaking at an online event and I learn real-time that it's being recorded and may be shared for AI training, what's going to happen? I'll keep on speaking ... begrudgingly.
That's not consent.
An attorney in the AP article states the same thing:
"That sort of just-in-time acquisition of 'consent,' is not real consent," he said. "And so that's a pretty misleading caveat from them to introduce. It claims to rest on consent, but what it's resting on really is just sort of what the meeting organizer or system administrator has decided to do."
It's an inelegant solution to a complex issue.
Zoom added one sentence to the terms of service which means we have to be 'on guard' for every update and change for fear if we turn a new feature on it could trigger generative AI being added to the account.
I ran a quick document compare between the December 2022 Zoom Terms of Service (on the left) and the August 9, 2023 Terms of Service (on the right).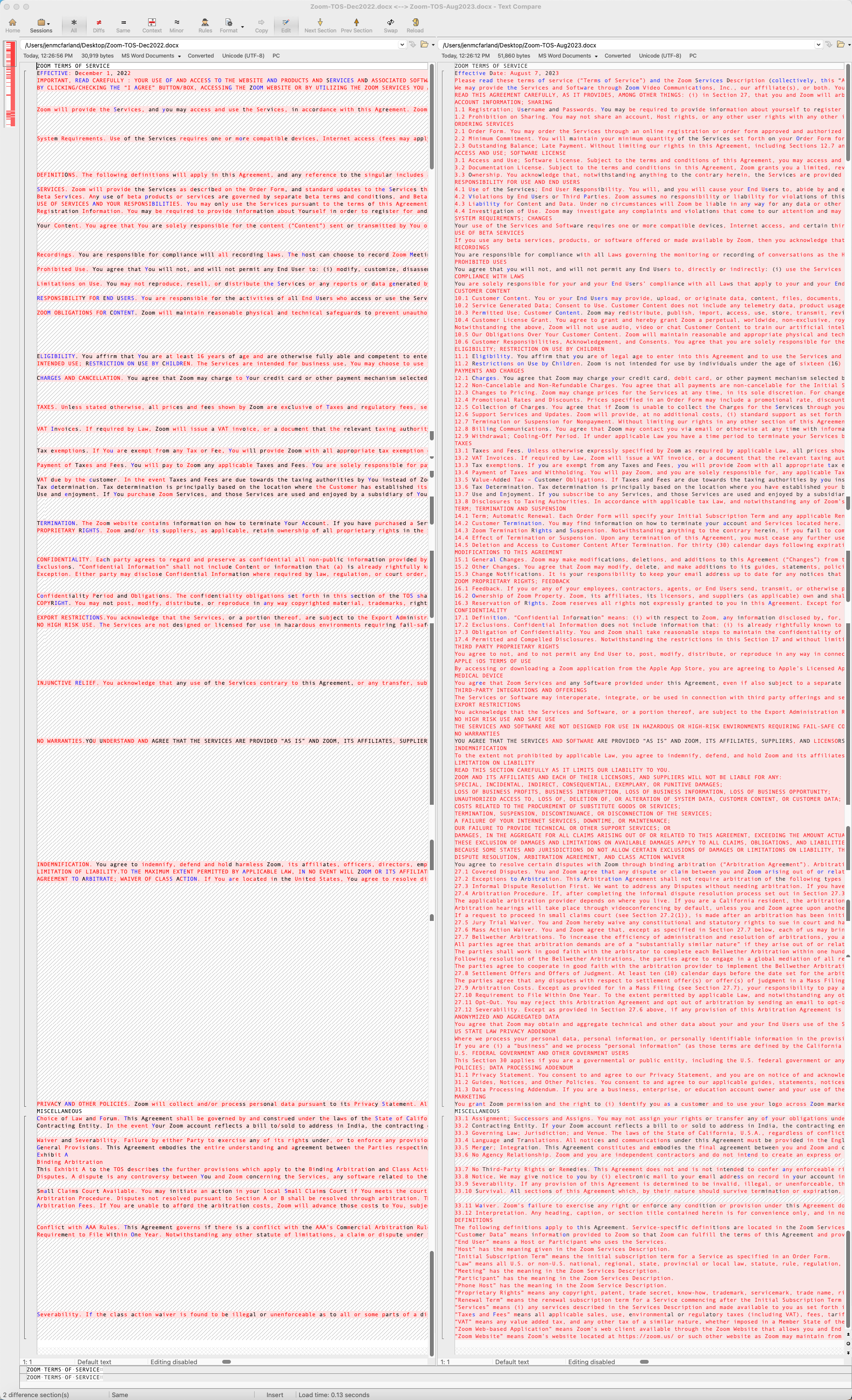 They've added a TON of legalese.
Nowhere to be found is this one simple sentence in the Webex terms of service:
Ownership of Content. We make no claim to your trade names, logos and other trademarks or service marks ("Marks") and Content and We will not sell your Content to third parties. — Webex terms of service, August 9, 2023
Update #2: Zoom's Response, August 11
According to Variety, Zoom changed course (yet again) on August 11, 2023:
Following feedback received regarding Zoom's recently updated terms of service, particularly related to our new generative artificial intelligence features, Zoom has updated our terms of service and the below blog post to make it clear that Zoom does not use any of your audio, video, chat, screen-sharing, attachments or other communications like customer content (such as poll results, whiteboard, and reactions) to train Zoom's or third-party artificial intelligence models.
When I compared the terms of service from August 7 and August 11, they clarified and narrowed Section 10, making it clear(er?) that Zoom won't use content for generative AI purposes.  

You will still need to disable Zoom IQ and any further AI-related products to ensure your content isn't used for generative AI.
It still doesn't change the real-time consent issue (see Zoom response August 7).
However, it does do more to assure users their meetings aren't simply paying Zoom to sell content to data brokers and make billions of customer intellectual property via generative AI.
Another fun wrinkle at the beginning of this long AI ride.
Buckle up.
Coda
This blog post made quite a stir.
Some subscribers felt I was being hypocritical because I've also discussed how to use AI for marketing.
Touché.
I replied that I acknowledge that ChatGPT, etc., are using my blog posts, podcasts, and videos that are in the public domain. I have no problem with that. (And if I did there's nothing I can do about it, except put some things behind a brick wall. Which I did.)
Zoom is different because I pay for it. AND, people pay me for expertise. I equate this with the Hollywood strike — I don't want Zoom (or Grammarly or ChatGPT or Google) to benefit from my work for years and not pay me.  
The other camp, are folks who either unsubscribed or wanted to know why I thought it was a big deal.
I responded that it's because I pay for it.
When that didn't satisfy folks, I further explained that I'm using European platforms for my website and course platforms because it holds the companies to a higher standard with regard to privacy.
I want to protect my clients (and myself) as much as possible.
I have a background in data security. As an executive at the City of Portland I coordinated a data share agreement with IRS. Through that process I learned a lot about Terms of Service and how people use our data.
I don't like it. ... and it's my opinion.
In the third camp, are folks who were deeply concerned.
I wrote this for all of you.
Thank you all for your responses. I appreciate you.
---
💌 That's a wrap.
If…
You enjoyed the newsletter, please share it.
You have a question or comment (or want to say hi!), hit reply.
See you again next week.
Have a great day,
Jen
P.S. Ready To Work Together? Here are 3 ways to receive support:
Marketing Consulting, confidence-boosting guidance with a patient teacher, action-oriented goal-setting, and accountability in a safe, confidential space.
Get a Marketing Blueprint to position your business for future growth.
Join my Marketing Membership because marketing alone stinks — set your goals, get support, and dedicated time to work.