Despite our collective desire to start the new year on the right foot, many small enterprises (SMBs) face significant challenges. You're not alone if your business is performing poorly or underperforming.  Master these seven business growth strategies, and you'll find effective and tangible results in your business.
On numerous fronts, small business owners, start-ups, and entrepreneurs of all types have been feeling the pinch, but key growth tactics might help you reignite sales and generate growth.
Let's look at some of today's most pressing problems affecting the SMB market. For one thing, global supply chain issues that have been widely reported have had a more significant effect on small companies than on larger enterprises.
Many smaller firms are forced to scour for new suppliers as big businesses snap up remaining supplies of just about everything (cardboard, food containers, etc.).
In addition, the COVID-19 pandemic has been a mixed bag for small businesses. While some entrepreneurs have managed to pivot and find new opportunities during the pandemic, many others struggle to keep their doors open.
The good news is that there are things you can do to help your business grow despite these challenges.
Signs It's Time to Focus on Business Growth
As a business owner, keeping an eye on key indicators that signal when it's time to grow is important. Here are six signs that your business is ready for expansion:
You've maxed out your current space or resources
Your revenue has increased, and you're experiencing higher customer demand than you can currently meet
You've hired more employees than you can comfortably manage
Your current processes are no longer efficient or effective enough
You're losing market share to competitors
There's a gap in the market that your business could fill
If any of these signs apply to you, it's time to start planning how to grow your business.
How to Grow a Business in 7 Simple Steps
Below are some tips to help you get started:
Build a Business Plan For Success
To grow a business, you'll need a clear and concise business plan. This document should include your goals, strategies, and how you plan on executing them. Without a plan, making your business sustainable in the long run will be challenging.
One of the most important aspects of a business plan is your marketing strategy. To attract and retain customers, you'll need to create a marketing plan that resonates with your target audience. This will require some research, but it'll be worth it.
Once you have a solid business plan, you can start implementing your growth strategies. Remember, Rome wasn't built in a day, so don't expect your business to grow overnight. Be patient and consistent with your efforts, and you'll start seeing results in no time.
Increase Your Online Presence
An online presence is essential for future success, whether your company is doing well offline or not. The eCommerce market is expanding rapidly, with an annual growth rate of about 23%.
This trend will continue, so your business must have a solid online presence. According to experts, by 2040, it's estimated that 95% of all purchases will be made online. So if you want your business to succeed in the future, you must ensure a solid online presence.
There are a few ways to increase your online presence. One way is to ensure a website is optimized for search engines such as Google. You can include keywords in your website content and make sure your website is mobile-friendly.
Additionally, you can use social media to build a solid online presence. Platforms like Facebook, Twitter, Tiktok, and Instagram can help you reach a wider audience and can also help you connect with customers directly.
According to a recent survey, 45% of social media users looked up brands and items before buying something, while 67% bought an item advertised on social media. Focusing on one or two platforms where your customers are active can give you a good return on investment.
Another way to increase your online presence is through digital marketing. This involves using various online channels such as email, search engine optimization (SEO), pay-per-click advertising (PPC), and social media advertising to reach your target market. Digital marketing can be a great way to connect with customers interested in what you have to offer.
So, if you want to grow your business in 2022, focus on increasing your online presence. Using SEO, social media, and digital marketing, you can reach more customers and grow your business.
Prioritize Customer Service
Customer service should always be a top priority for businesses. To keep customers returning, you must ensure they are happy with the products and services they receive. This means promptly responding to complaints and queries and going above and beyond to meet customer needs.
Customers often feel valued if they feel they are being listened to and their issues are taken seriously. By ensuring that your customer service is up to scratch, you can help to build a strong relationship with your client base, which is essential for business growth.
Another way to prioritize customer service is by offering loyalty programs and discounts. This shows customers that you appreciate their business and want to keep them happy. By providing incentives, you'll also encourage customers to continue doing business with you in the future.
Finally, it's important to remember that customer service doesn't just involve dealing with complaints. It also includes providing excellent products and services and going the extra mile to ensure customers are happy. Don't forget to ask for reviews and testimonials; 88 percent of customers trust online reviews as much as personal recommendations.
By following these tips, you can ensure that your business is putting its best foot forward in customer service.
Focus on the Right Customers
One of the most important things to remember when growing a business is to focus on the right customers. Too often, entrepreneurs try to appeal to everyone. As a result, their efforts are diluted, and they don't make much progress. Instead, you need to identify your ideal customer – that person or company who is the best fit for your product or service. Once you know who they are, targeting them specifically with your marketing efforts becomes easier.
Creating customer/buyer personas is an excellent way to determine your ideal customer. You create fictional but representative characters based on actual data about your customers. You can learn a lot about your target market by creating personas, such as their demographics (age, gender, location), what motivates them, what challenges they face, and how they make decisions.
Another key to success is understanding what these customers want and need. This means researching and getting to know their pain points and how you can help solve them. Don't make assumptions – talk to your customers, read their feedback, and analyze how they interact with your brand. Only then will you create content and marketing messages that resonate with them.
Product Updates: Refresh Your Offerings
To keep customers engaged, it's crucial to have a product roadmap that includes regular updates and expansion of your offerings. This can be anything from adding new features to existing products to launching new products or services.
One way to ensure your products are always fresh is to refresh them regularly with new features, updated designs, or both. This not only keeps customers engaged but can also help attract new customers who are looking for the latest and most outstanding offerings.
Another option is to launch entirely new products or services regularly. This keeps your business growing and expanding, which can help you tap into new markets and reach more customers.
Both of these approaches require careful planning and execution, but they can be well worth the effort to grow your business.
Here are some key questions that may help you understand why your product isn't selling and how to make critical updates to boost sales across new and existing markets:
Have you refreshed your understanding of the market lately?
Has anything new in the marketplace influenced demand for your current goods or services?
Are you monitoring consumer feedback and reviews?
Do you evaluate customer service requests regularly to see which product or service features produce the most difficulties?
Are you seeing repeated feedback in your Yelp or Google reviews?
When was the last time you looked at your product marketing strategy? Perhaps your product's value proposition and prominent statements no longer resonate with your present market.
How does your product stack up against the competition?
Do they provide more features or higher quality for a similar price?
By asking yourself these questions, you can better understand how to update your product offerings to appeal to a broader range of customers.
Customer Retention and Attraction
You may be a master at keeping current customers, but what about attracting new ones? If you don't have the plan to acquire new consumers, you could lose out on a valuable market. This is especially crucial if your sales of existing goods have stagnated or you want to expand your market reach to a new region or target demographic.
Many brick-and-mortar retailers have suffered due to the shift to online shopping. Sales and earnings are more prone to decrease unless a business discovers new markets for its goods and services. This is especially vital in the COVID era when hundreds of old marketing and purchasing techniques have been disrupted owing to safety procedures and supply chain disruptions.
Take, for example, a small gym that was forced to close its doors at the start of the epidemic.
To keep its existing members, the gym quickly relocated its programs online. It also developed an extensive collection of on-demand exercise videos to compete with cheaper fitness applications. On the other hand, the gym still needed to attract new patrons to boost income.
To increase revenue, it introduced a variety of "pandemic bonuses" for joining. This included a gift card for the fitness center's wellness shop (which boosted sales). In addition, new members were given discounts on socially distant personal training and remote, in-person group sessions — benefits that no other fitness software provided.
As a result, the gym saw its customer base grow instead of losing members. It has more people working out and spending money on products and services than ever before.
Reduce Company Risks
Starting and developing a business comes with risks. It's nearly impossible to control everything, but several techniques exist to protect your company and its growth from internal and external threats. In this endeavor, one valuable tool for you is your business insurance provider. According to one study, 75% of businesses are underinsured.
There are numerous varieties of business insurance, but the most common types are general liability, workers' compensation, and commercial property insurance.
General liability. General liability protects you and your business from personal injury or property damage caused by a client, customer, vendor, or any other person who uses your products or services.
Workers' compensation is a form of insurance that protects workers from the financial consequences of their work-related injuries and illnesses. It covers medical expenses and missed wages when employees are hurt or sickened from performing their tasks. Every company is required to have workers' compensation insurance.
Commercial property. Commercial property insurance covers a firm against accidental damages, vandals, and the loss of physical property and assets.
Ensure that your business is protected against risks by working with your insurance agent to determine the right coverage for your company.
Business insurance is vital for entrepreneurs but is not the only way to reduce risks. You should also:
Conduct regular risk assessments
Have a business continuity plan
Implement security measures
Educate your employees on how to minimize risks
Following these tips can help protect your business and its growth.
Boost Your Business & Get Excited About Growth
Grow with your business and take advantage of our top tips to help you plan and prepare your business to thrive in 2022 and beyond.
Remember that a bit of planning goes a long way and that implementing new technologies, procedures, products, and services do not have to be grueling.
Embrace change and get excited about the future success of your business today!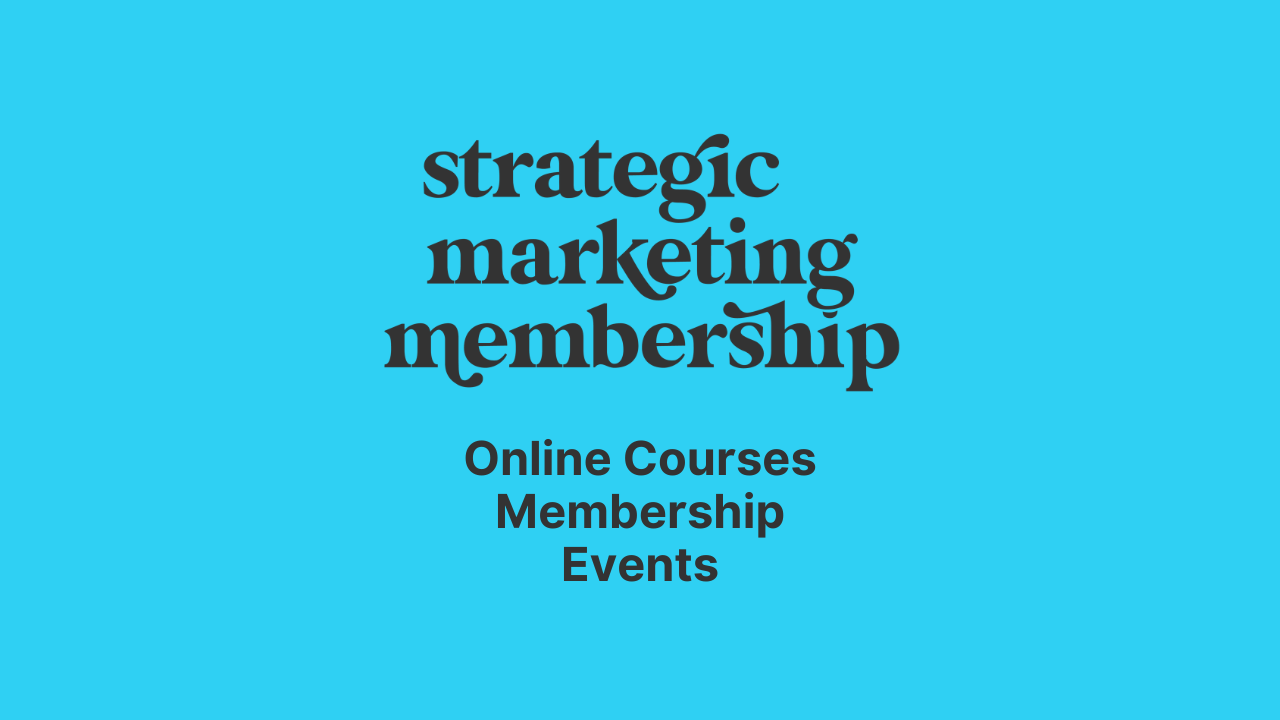 Ready for ongoing support?
Join us in the Strategic Marketing Membership where we offer events, coaching, and accountability.
JOIN OUR COMMUNITY