Whether you're a seasoned company owner or are just getting started thinking about starting your own company, demands keep coming. Deciding how to write a business plan—much less following one—often seems overwhelming and time-consuming in the middle of the clutter of to-do lists and meetings.
Business planning guides company founders in making decisions, balancing resource supply and demand, and converting broad goals into concrete operational actions.
If you're feeling lost or intimidated by the business planning process, don't worry. This blog post will walk you through the steps of writing a business plan and provide you with tips for creating a practical document to help your business succeed!
What is a Business Plan?
A business plan is a document that outlines your business goals and how you plan on achieving them. It includes your company's structure, marketing strategies, and financial forecasts.
A business plan is essential for any business, large or small. It gives potential investors an idea of your company's potential and helps you attract financing for your business.
Why do you need a Business Plan?
Most venture capitalists (VCs) and financial institutions will not fund a startup or small business without a solid, written strategy.
A business plan helps you focus on realistic goals and gives potential investors peace of mind that you've planned ahead.
In 2018, Bplans, an entrepreneurial resource center, collaborated with the University of Oregon to compile and analyze case studies on the advantages of business planning.
Here's what they discovered:
Those with a business plan grow 30% faster than those without.
Owners with business plans are more likely to develop, receive financing, or obtain loans than those who do not have one.
Companies with business plans bring in 20% more revenue than those without.
Entrepreneurs who have a business plan had a 129% higher chance of going on to expand their company and a 260 percent higher likelihood of transforming an "idea" into a "new business."
In other words, business plans matter. They allow business owners to lay out their business goals and track their progress over time. If you're looking for funding, a business plan is practically mandatory.
How to Write a Business Plan in 10 steps
Every business plan needs to include ten critical components, whether you're creating a business plan to acquire money and expand your company or simply need to determine if your concept will succeed. Here's an overview of each component:
1. Create an Executive summary
The executive summary is an overview of your company and its goals. It's the first item in your plan, usually no more than two pages long. However, most people write it last.
The executive summary should ideally be a standalone document summarizing your detailed plan. When investors evaluate your company, it's common for them to ask for only the executive summary. They'll often follow up with a request for an entire plan, a pitch presentation, and additional financial details if they like what they see in the executive summary.
A good executive summary should include:
A description of the problem you are attempting to solve.
A description of your product or service.
An overview of your target market.
A quick overview of your team.
A description of your financials.
(If applicable) funding requirements.
2. Describe your Company
Your company description is your story. It goes into greater depth regarding your value proposition, how you arrived at it, and what you want to accomplish.
Break down your description into three parts:
Mission statement
Company profile
Business objectives
A business plan's components serve as a frame of reference for the rest of the picture, helping investors understand your company.
What is a Mission Statement?
A mission statement is a short, powerful statement describing your business's purpose. It should include what you do, who you serve, and how you plan to achieve your goals. A well-written mission statement will help keep you focused on your goals and guide your decision-making.
A good mission statement should be:
Emotional: It should stimulate readers and pique their curiosity.
Inspirational: To inspire people to believe in your goal.
Every phase of your strategy should be as simple as possible. That is especially true with your mission statement, which is always better to keep simple. Consider what motivates you, what prompted and affected your decision to start the business, the problems you address, and so on.
Ensure your mission statement stays aligned with your company's purpose as it changes. A statement that does not reflect your core values or what you do can harm your marketing efforts and credibility.
Company Profile
The business plan should open with a brief description of your company. This is typically called the Company Profile. Here you will describe:
What your business does
Your business history
The business structure (e.g., sole proprietorship, partnership, corporation)
The products or services you offer
Your target market
Your business location(s)
The business owner(s) and key management team members
If you are seeking funding, this is also the section where you will describe your business's current financial situation and your long-term funding goals.
Business Objectives
You should be clear about what your objectives are before you start. These goals must be SMART, which stands for:
Specific: The business objectives should be clear and specific.
Measurable: You need to be able to measure whether or not you have achieved your objectives.
Achievable: The business objectives should be possible and realistic.
Relevant: The business objectives should be relevant to your business goals.
Time-bound: The business objectives should have a time frame for when you should achieve them.
They must also be linked to significant results. It's difficult for employees and team members to work toward a common goal when your objectives aren't adequately defined. Worse, vague goals won't inspire investors' confidence or positively influence your company.
3. Market Analysis
In this section, you'll describe your target customers in more depth. You'll also discuss the expansion of your market and industry and how it has changed over time.
To begin, describe your target market. Your target market is the group of individuals you intend to sell to. Make an effort to be as precise as possible. Developing a sales and marketing plan to reach your customers will be easier if you have a good target market.
After that, give a summary of your market analysis and research. You'll want to explain how your market is developing over time and how your firm is positioned to take advantage of expected changes in the sector.
4. Conduct Competitive Analysis
As you research your industry, it's essential to understand your business's place within that landscape. This is what we call a "competitive analysis."
In short, competitive analysis examines what other businesses in your industry are doing right (and wrong) and how you can improve upon their successes (and learn from their failures).
To do a competitive analysis, you'll need to understand your business's strengths and weaknesses and the opportunities and threats posed by your industry and competitors. Only then can you develop strategies for writing a business plan that will make yours stand out from the rest.
There are three broad categories that you may use to differentiate your business in the face of competition:
Cost leadership. This business model focuses on offering the lowest prices in the market. To succeed with this strategy, you must clearly understand your competitors' pricing structures and strategies and your costs. For example, Mejuri and Endy are two businesses that have employed this strategy.
Differentiation. This business model focuses on offering products or services that are unique and not easily replicated by your competitors. You must clearly understand your target market and its value to succeed with this strategy. Consider companies like Knix and Qalo.
Segmentation. This business model focuses on serving a specific niche or segment of the market. To succeed with this strategy, you must deeply understand your segment's needs and how your business can meet them. TomboyX and Heyday Footwear are excellent examples of this technique.
Once you've identified your business's competitive advantage, you can begin to develop your growth strategy. This will be the foundation of your business plan and help you determine how to turn your competitive advantage into a successful business.
5. Products and Services
The products and services chapter of your business plan is where the meat of your plan lies. It covers the issue you're addressing, your solution, and how your product or service fits into the existing competitive market.
Start the chapter on products and services by describing your clients' difficulties and the solution you offer them. This is a description of your product or service.
BAGGU, for example, sells a wide range of bags, house items, and other accessories. Its target market is people looking for beautiful, well-made products that will last a long time.
BAGGU's bags solve the problem of wanting a stylish, durable bag. The company differentiates itself from its competitors by its commitment to quality, its wide selection of colors and styles, and its use of sustainable materials.
It would help if you also described your business's competitive landscape in the products and services chapter. This includes a description of your direct and indirect competitors and how your product or service is different from or better than what they offer.
It would help if you also described your business's pricing strategy in this chapter. Price too high and you may miss out on potential customers; price too low and you may seem like a bargain basement option.
Finally, the products and services chapter should describe your business's sales channels. This is how you will reach your target market and sell your product or service. For instance, BAGGU sells its products through its website, brick-and-mortar stores, and other online retailers.
If you're selling a physical product, you should include photos or sketches of your product in this chapter. If you're selling a service, you might consist of screenshots or diagrams to show how your service works. You can also include customer testimonials or quotes in this chapter to show how your product or service has helped others.
6. Marketing and Sales Strategy
The marketing and sales strategy section of your business plan covers how you intend to reach out to your target market segments, how you intend to sell to those target markets, what your pricing plan is, and what forms of collaboration you'll need for your business to flourish.
This portion of your business plan should include the following:
Your target market - The people you want to reach with your message.
Which marketing channels you'll use, and which you'll prioritize? For example, word of mouth, Google Ads, social media, exhibition stands or fairs, print or radio advertising, or referrals.
What is the best way to get customers when you first start? For example, you could offer an opening for those posting your content on social media. Alternatively, provide a voucher to each customer who refers someone new.
Your customer retention plan. For example, you may provide reward systems that allow consumers to earn points for every purchase they can redeem for free or discounted items.
Your expected results. What are you hoping to get out of your marketing, and how will it assist you in growing your business in terms of sales and exposure? Give details on what you've done so far and how it's benefited the company if you've already begun promoting your business.
Marketing and sales are two of the most important aspects of any business. After all, without customers, you wouldn't have a business to run. That's why creating a comprehensive marketing and sales strategy that covers how you plan to reach your target market segments and sell to them is crucial.
7. Describe Your Organization and Management
Describing your management team is one of the most important aspects of a strong business plan. Investors will want to know that you have a qualified team to execute your business idea.
Include a description of each key team member, role, and qualifications. Remember to highlight any relevant experience, such as previous business ownership or management experience.
If you're already up and running, you should briefly describe your legal structure, location, and history. This will give your reader a better understanding of the business and its growth potential.
Include a short biography for each key team member focusing on their meaningful experiences. It's critical to make a case for why the team should be chosen to bring an idea into reality here. Do they have sufficient industry knowledge and experience? Have any of the team members previously founded businesses?
Your company overview should also include a description of your firm's current corporate structure. The following are the most frequent business structures:
LLC
C-Corp
S-Corp
Sole proprietor
Partnership
Be sure to provide a review of how the business is also owned. Does each founder own an equal stake? Do any outside investors hold equity in the company? This will assist investors, and potential lenders understand the business' capitalization structure.
8. Compile your Business Financials
A company's financial health determines whether it lives or dies, no matter how great the idea is, or how much effort, time, or money you invest. People want to work with a company they believe will be viable.
The degree of detail required in your financial plan will vary based on your target audience and goals. Still, you should include three primary perspectives: an income statement, a balance sheet, and a cash-flow statement. It may also be helpful to have projections.  (Remember – the most accurate predictions are based on historical data, including income and expenses.)
Profit and Loss Statement (Current and Projected)
This part of your business plan will include a profit and loss statement. This statement will show how much you expect to bring in each month and how much you wish to spend. It is essential to be realistic when creating this statement.
If possible, use historical information to make profit and loss projections.  You should also include a break-even analysis showing when your business will start making a profit.
Cash Flow Statement (Current and Projected)
A business plan is not complete without a cash flow statement. This statement shows how much money the business has on hand, how much it will need to pay its bills, and how much profit it will make. The cash flow statement is divided into three sections: operating activities, investing activities, and financing activities.
Operating activities include all the money that comes into the business from sales and all the money that goes out of the company to pay for expenses.
Investing activities include all the money the business invests in new equipment or property.
Financing activities include all the money the business takes in from loans and investors and all the money it pays back to them.
Balance Sheet (Current)
This statement of your business's assets and liabilities is used to calculate your business's net worth. This information is essential for potential investors as it shows them how much money they would need to invest in getting a return on their investment.
To create a balance sheet, you must gather information on your business's assets and liabilities. This information can be found in your business's financial statements.
Once you have this information, you must create a list of your business's assets and liabilities. To do this, you will need to:
List all of your business's assets. These include cash, accounts receivable, inventory, property, equipment, and vehicles.
List all of your business's liabilities. These can include accounts payable, loans, and credit card balances.
Subtract your business's liabilities from its assets to calculate your business's net worth.
9. Explain your Funding Request
If you seek funding from investors, you will need to include a section in your business plan that outlines how much money you need and what you will use it for. Be as specific as possible here. Include information on what the funds will be used to cover (e.g., product development, marketing, salaries, etc.), how much you are requesting, and how you will repay the funds (if applicable).
This section should be broken down into three parts:
Current and future funding requirements
How funds will be used
Current and future financial plans
Current and Future Funding Requirements
Include in the application the reason you seek a loan or investment and any future funding you'll need (up to five years). Make sure to explain that your requirements are based on your financial predictions.
If you're exchanging equity for investment, explain how an investor will get their money back and when they'll be able to cash out. Investors may be paid in dividends (a portion of company profits) or other distributions based on profits.
Current and Future Financial Plans
Finally, provide information on any current or outstanding loan payments. Most lenders will have their repayment schedules if you're looking for an investment or a loan for the first time. However, you should note any influences that may influence lenders, such as any intentions to relocate or sell the firm.
Funding requirements will vary depending on the financier. Investors will be concerned with return on investment (ROI), whereas lenders will be focused on loan payments. Create separate reports to ensure that the information is appropriate for the reader.
10. Compile an Appendix for Official Documents
The business plan should have an appendix that contains any legal documents or permits that pertain to the business. This will show investors that you are serious about your business and are already taking the necessary steps to get it up and running.
If you don't have official documents, you can still include a section in your appendix for any licenses or permits you plan on getting. This will show that you are prepared and have already thought about the legalities of your business.
Investors want to see that you clearly understand the business and take all the necessary steps to make it successful. An appendix is one way to show them that you mean business.
Business Planning Gives you a Solid Foundation for Growth
It is essential to have a business plan when you are starting a business. This document will outline your business goals, strategies, and how you plan on achieving them. A business plan is also helpful for attracting investors and partners.
Writing a business plan can be daunting, but it doesn't have to be. Following these ten steps, you can create a comprehensive business plan to set your business up for success.
If you take the time to write a business plan, you will be rewarded with a clearer understanding of your business and its potential. Your business will be more likely to succeed, and you will be better prepared to make informed decisions about its future.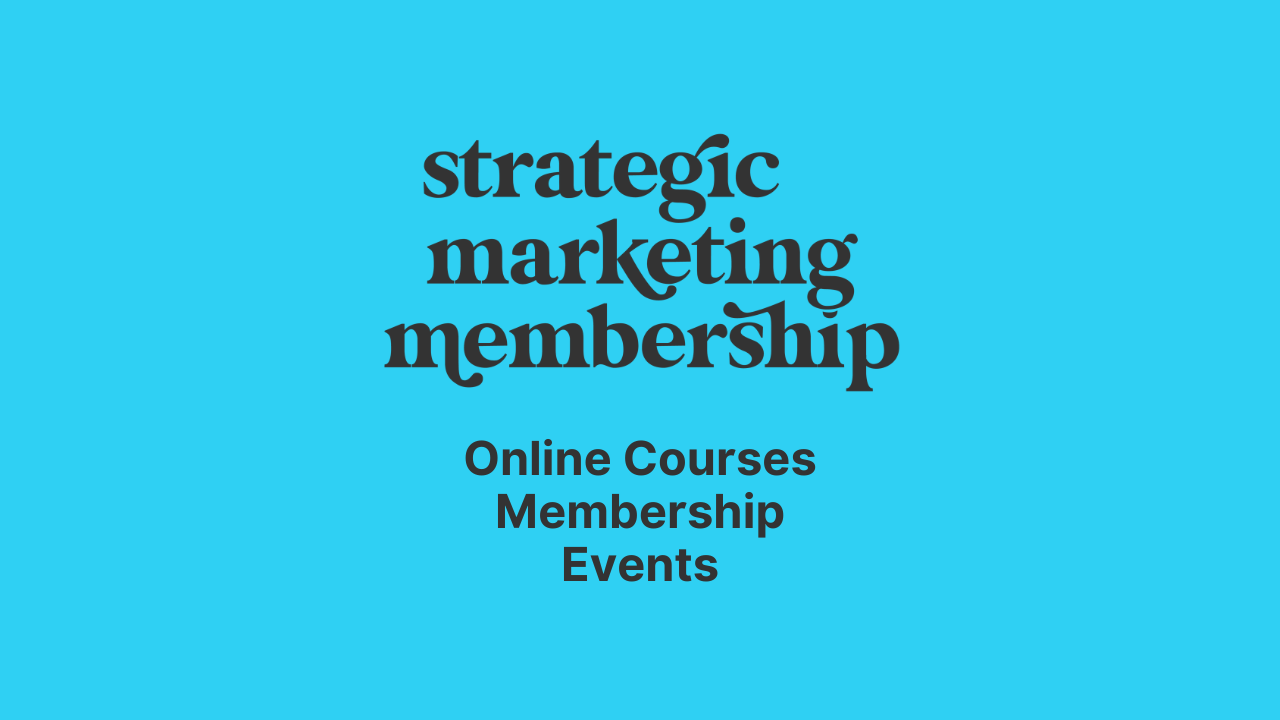 Ready for ongoing support?
Join us in the Strategic Marketing Membership where we offer events, coaching, and accountability.
JOIN OUR COMMUNITY