What if I told you you could cut down on the time it takes to finish your marketing processes AND still get the same ROI? That's one of the benefits of marketing automation & strategy, which makes the mundane manageable.
Have you ever thought, "I'm so tired of copying and pasting the same things over and over?" Maybe you're typing in customer details into your CRM, and then into Google Contacts and yet again into your email marketing program. Repetitive tasks like this are also a marketing automation opportunity.
Business owners often mistake marketing automation with starting complicated funnels and chatbots rather than streamlining an existing process. #marketingautomation #marketingstrategy

Click To Tweet
Let's talk about your customer list.
Customers are the lifeblood of your business. And many business owners cannot generate a customer list on demand. It's impossible to market to your biggest fans if you don't have a consistently updated list.
Suppose this sounds like a lot of work. In that case, this is where the marketing automation strategy thrives — gathering information scattered across different systems, tools, and apps so it can be analyzed and used by your organization.
Have you ever gone to a website and then seen ads for the product you viewed EVERYWHERE you go online? Or maybe the same Facebook ad haunts your dreams. A big part of a marketing automation strategy is collecting information about your customers and potential customers and using it for lead generation, brand loyalty, and online sales.
Marketing automation strategy tools streamline repetitive marketing tasks. It allows you to delegate tasks such as email marketing, social media posts, and online ads. Automation not only saves time but, when done correctly, also provides personalized marketing messages for consumers.
If you're curious about how automation can help you, keep reading for some key areas where marketing automation platforms can streamline your business in 2021.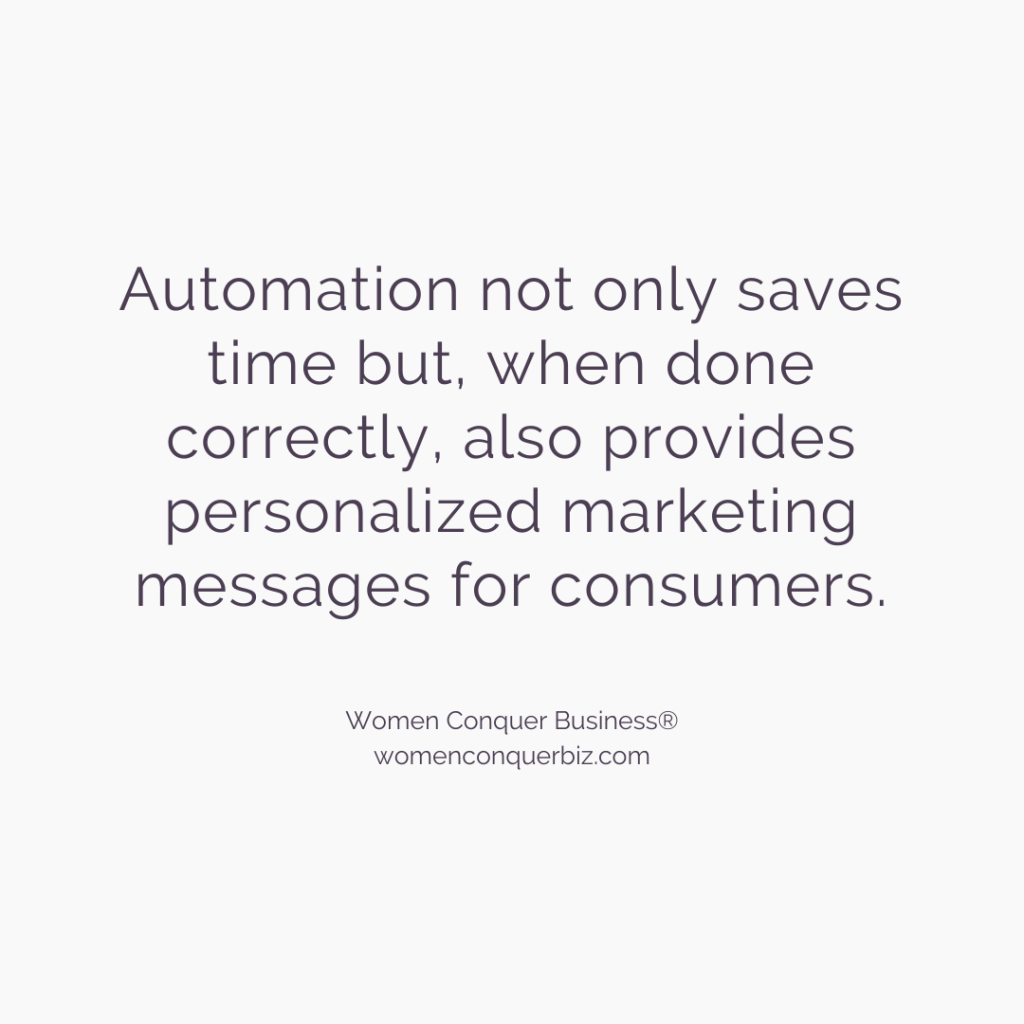 Embrace Marketing as a Critical Business Need
No business can escape the critical need for consistent marketing. Some entrepreneurs embrace that reality with a marketing first mindset, while others view marketing as more of a necessary evil. Yet, no matter what perspective you adopt, marketing can soak up a tremendous amount of time.
Marketing automation platforms and associated marketing tools can help reduce the time involved with some of these processes. Unfortunately, a haphazard approach in choosing and deploying those tools and platforms can make it worse.
Business owners often mistake marketing automation with starting complicated funnels and chatbots rather than streamlining an existing process. Successful automation always starts with rock-solid, documented processes.
In short, automation won't fix what's broken. It'll likely make it much worse.
For businesses that already have some marketing automation strategy in place, a marketing audit can help identify and resolve bottlenecks.
Let's go through the biggest quick wins you can get with marketing automation strategy.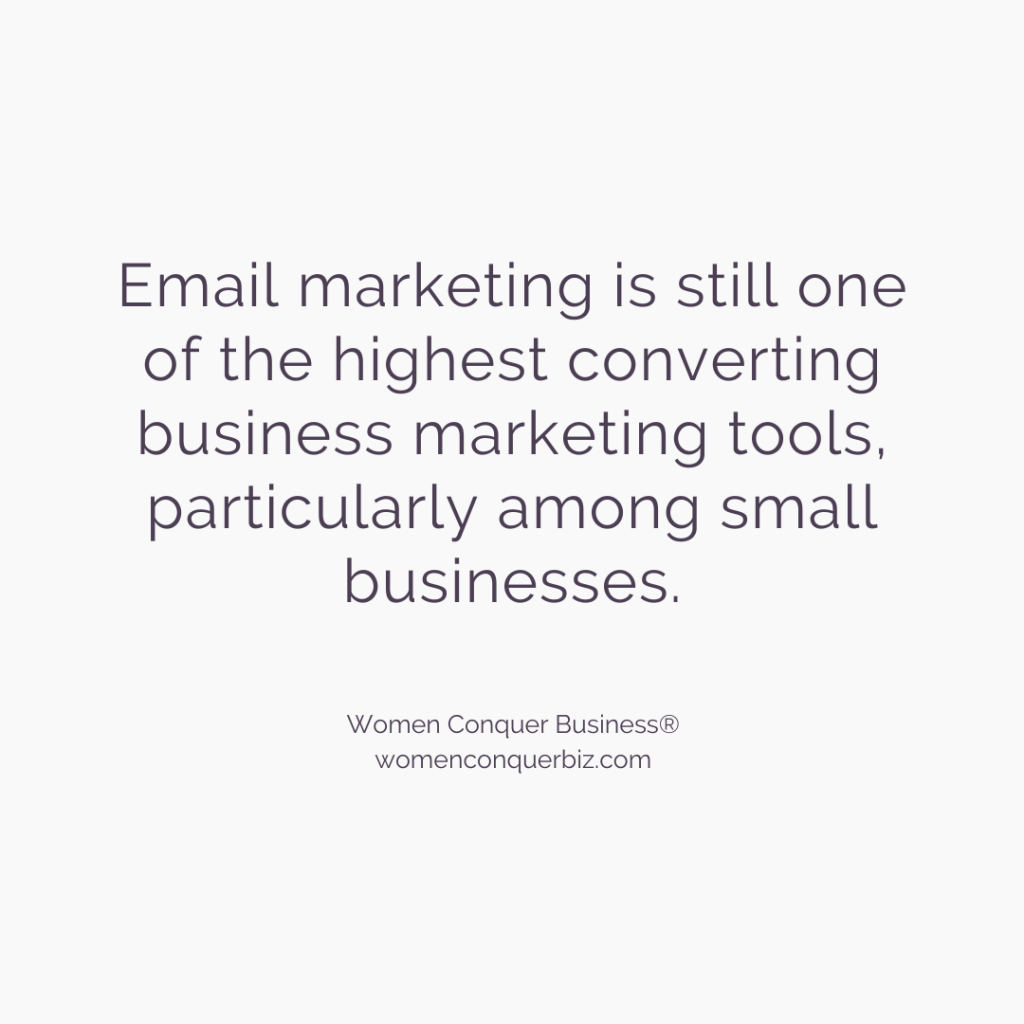 Make the Old New Again with Email Marketing Automation Strategy
As 2021 automation trends go, using an email marketing tool as part of your marketing strategy isn't the newest or shiniest thing. Yet, it's one of those things most businesses end up doing. Why?
It works.
Email marketing is still one of the highest converting business marketing tools, particularly among small businesses.
A healthy, carefully segmented set of email lists gives you a tremendous advantage over similar businesses without one. People who opt-in to your email list are a group of warm leads who already bought from you or expressed an active interest in doing so.
Here are a few ways you can automate your email marketing efforts to increase conversions while saving time.
Introduce Yourself with Drip Campaigns
A welcome series is a drip-email campaign you send out to fresh sign-ups on your list. You use it to introduce your leads to your company, culture, and brand. For high-value/high-cost products, it's also your chance to educate potential clients about your products and their benefits.
These campaigns can go on for up to three months at one email a week. Imagine trying to remember to set up and send those emails manually. For each person who signs up. Yuck.
With an automation platform, the entire series of emails go out to the new leads on a defined schedule with no extra work on your part.
A welcome series is only one example of a drip campaign. Drip campaigns can help with sales, events, or boost user engagement. Carefully plan not only the goal of a drip campaign but also where those contacts end up. Using your drip campaigns to segment your list based on their interests will make this tactic a long-term success.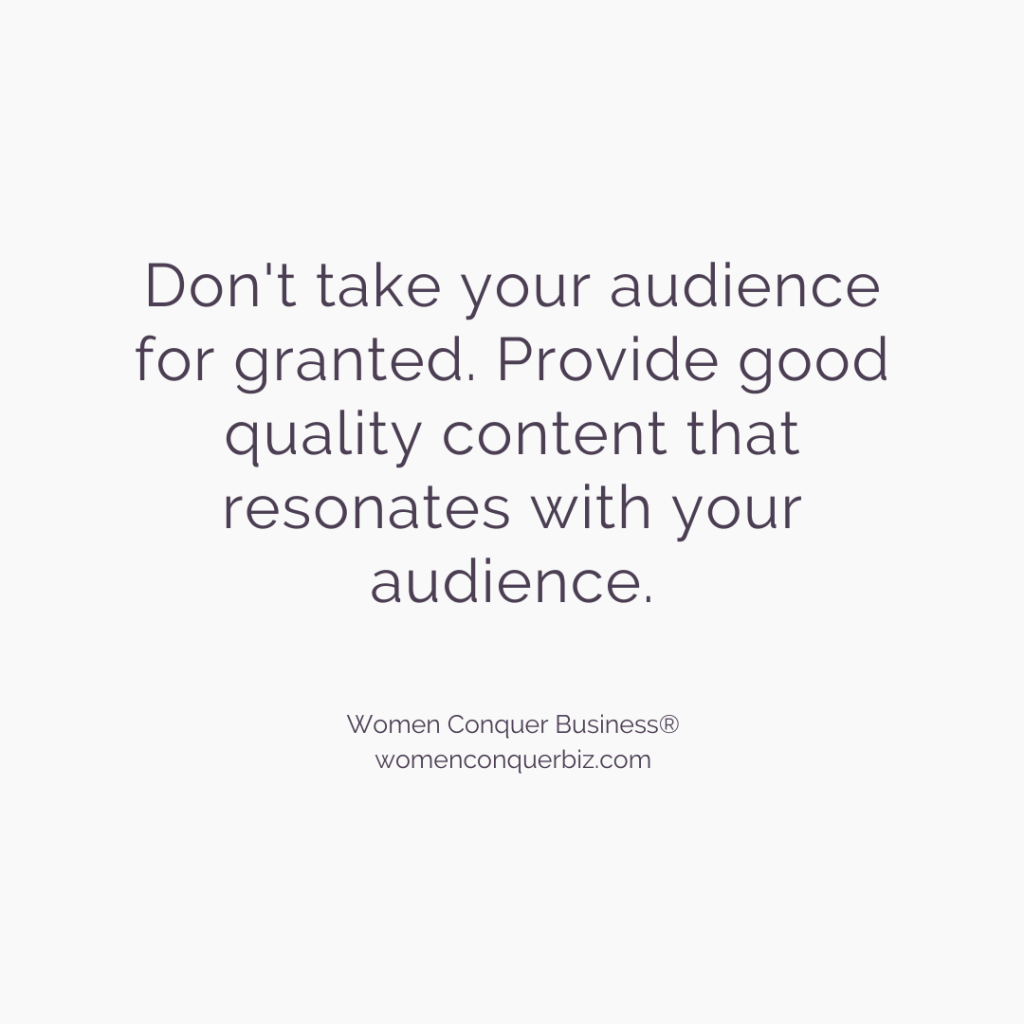 Newsletters are Rad
Not everyone loves newsletters for their businesses, but newsletters do offer some benefits. A few areas where they help you include:
Brand building
Announce new products
Solicit customer feedback
Advertise promotions
Establishing expertise
It's also space where you're not competing with all the other tweets and Facebook noise. It's your place to chat directly with your customers (for free) within the cozy confines of their inbox.
Don't take your audience for granted. Provide good quality content that resonates with your audience. The Women Conquer Business newsletter boasts an over 50% interaction rate, with an open rate of about 40% (crushing the 22.8% average).
Email marketing platforms help you with this by taking some of the pain out of the process.
They often offer templates, which let you focus on content. Again, you can schedule delivery, and it goes out to everyone on the list at a pre-determined time. You can then review the reports and track actions members of your list took so you can refine your messaging, so they can't wait to see your newsletter hit their inbox.
Automate Social Media to Avoid Wasting Time
No one can deny the vast potential social media offers in terms of marketing. Social media shows up on marketing trends lists every year, as well as marketing automation trends lists.
Maintaining profiles and pages on social media platforms gives you access to millions of people who actively visit the site. Beyond that, many of the visitors help you market to them by identifying their preferences with hashtags or joining groups.
Caveats & Pitfalls
Of course, social media comes with its share of pitfalls.
Right at the top of the list is the sheer number of social media sites. Take the time to research social media platforms based on where your customers are — and then be there.
Zero-in on one to two platforms where you'll be most active. Then, create profiles on the major platforms:
Facebook
Instagram
Twitter
LinkedIn
Pinterest
YouTube
And send people to the place(s) where you are most active. Using this approach gives you the best of both worlds. You are expanding your digital footprint while managing your time and focusing on where you'll be most active (and useful).
Each site comes with its norms and expectations. Limiting platform activity to 1-2 spaces means you won't be adapting your content into multiple versions for multiple platforms.
Social media comes with a few caveats. You don't own your followers, platforms come and go, and it's getting increasingly difficult to gain traction organically. Part of your strategy needs to be transitioning your followers into subscribers on your email list.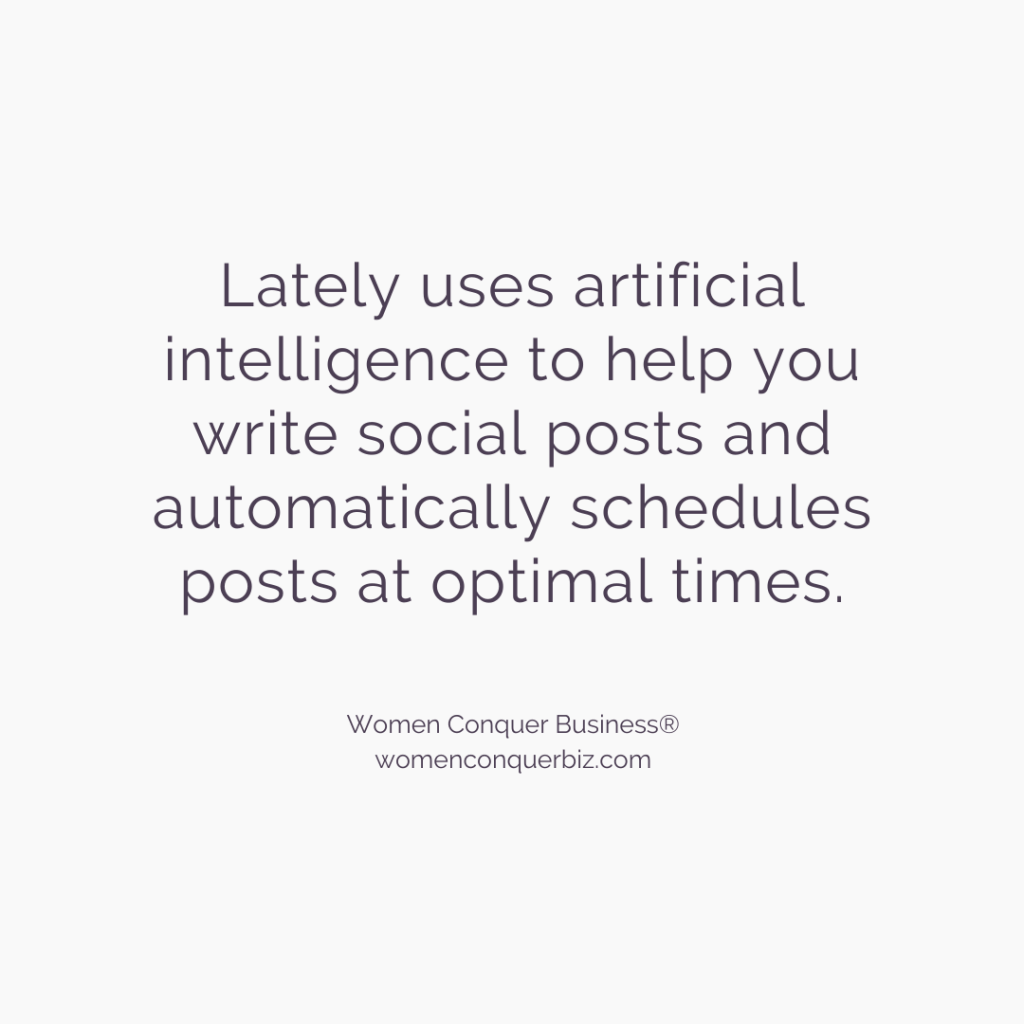 Social Media Marketing Automation
In many ways, automation matters more for social media than almost any other area of marketing. It's not necessarily because social media drives more of your sales per action, but because social media demands so much more content.
You can get away with a monthly newsletter. You cannot get away with a monthly Instagram or Facebook post, to say nothing of tweets. As a general rule, you must post on social media sites at least once a day. Otherwise, engagement drops.
Lately is the coolest and most advanced social media marketing platform available. Lately uses artificial intelligence to help you write posts and automatically schedule posts for optimal times based on your engagement rates. You can even upload videos, podcast episodes, or book chapters to get the most out of your content creation efforts.
If you're starting, you can't lose with Buffer, MissingLettr, or Later (different from Lately), where you can schedule posts across several platforms.
Social media automation platforms help you keep all of that content organized and posts it on a schedule of your choosing. Plus, you can typically do it all from one dashboard.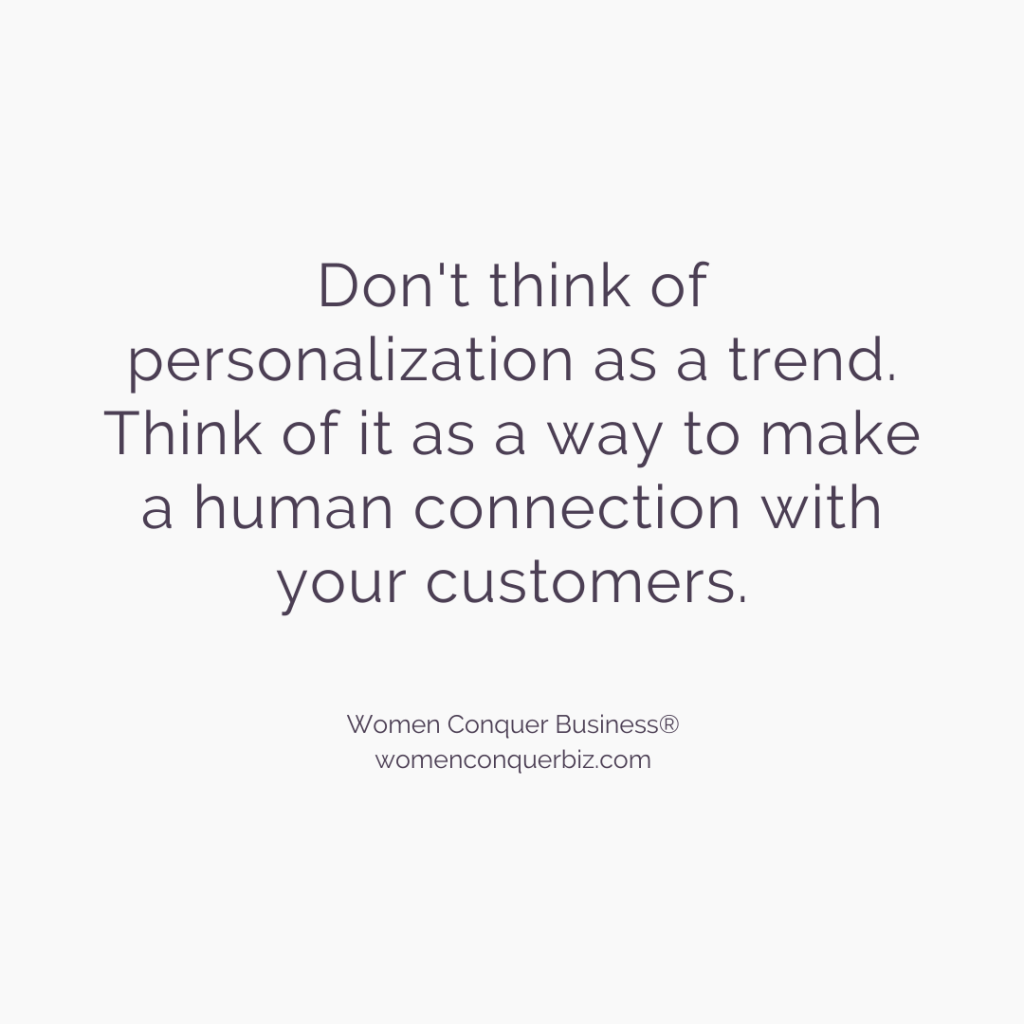 Personalization for a Human Connection
One significant marketing trend right now is personalization. Personalization comes in a lot of variations that range from the basic to the hyper-specific. Don't think of it as a trend. Consider it making a human connection with your customers and potential customers.
Getting Started with Personalization
Your first forays into personalization address the issue at the surface level. For example, one of the easiest things you can do is make sure emails begin with the recipient's name.
Personalization is about seeing your customers. We all like to feel special. Find the simplest ways you can do that in your marketing.
Get Serious about Segmentation
Suppose you want to dig deeper into personalization. That typically involves delivering content based on a more specific kind of segmentation, such as industry or even job title. Let's say that you're a freelance writer who specializes in legal content, medical content, and entrepreneurship.
You personalize the content you send customers based on whether they're involved in law, medicine, or run their own business.
When subscribers feel like you're talking to THEM, they will become more engaged and willing to buy.
Hyper-Specific Personalization
Hyper-specific personalization happens when you deliver customized experiences based on previous interactions or sales. Think of product recommendations from Amazon.
If you run an eCommerce site, consider using Convert.com or Personyze to create alternate versions of your homepage or landing pages based on factors such as time of day, returning visitors, products purchased, or even products viewed, or other interests.
Automation platforms often facilitate this by providing you with analytics about content performance and visitor/customer behavior, along with segmented views of those things.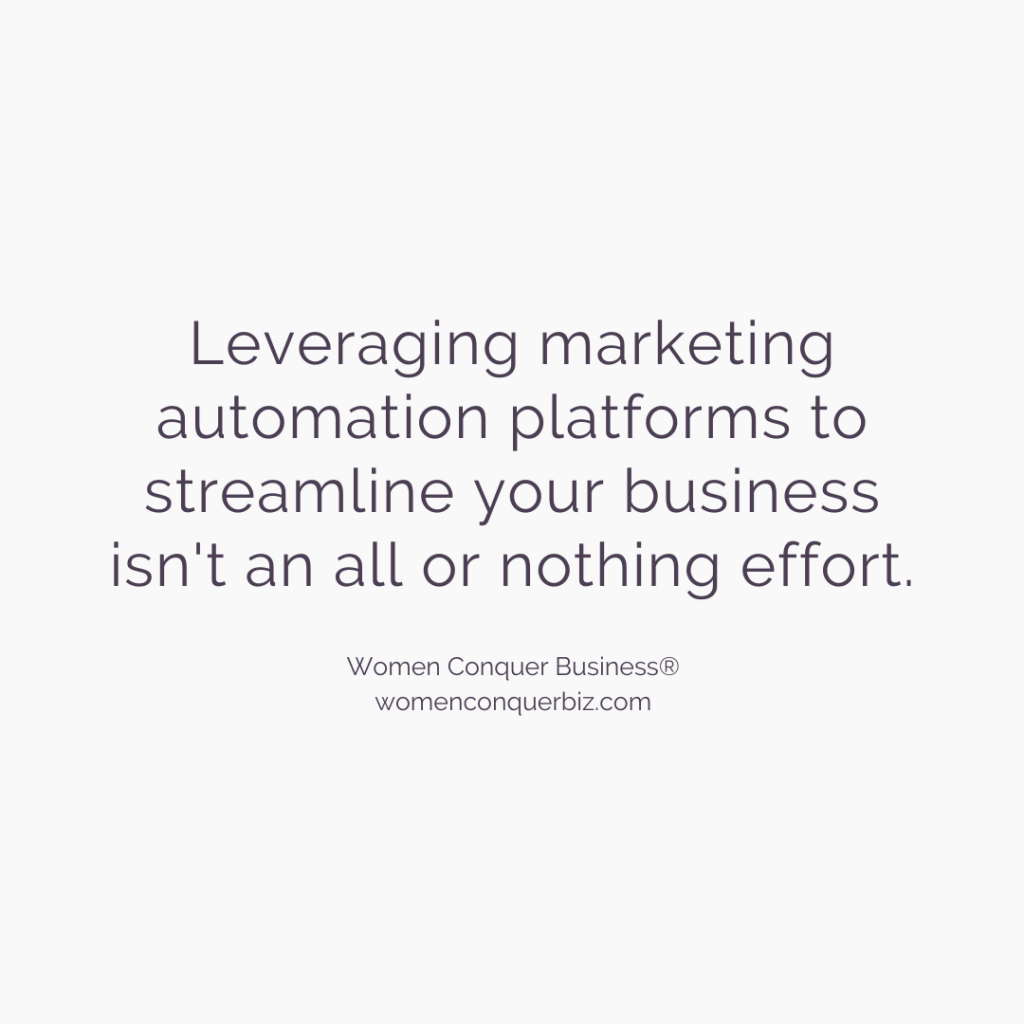 Leveraging Marketing Automation Software for Your Business
Leveraging marketing automation platforms to streamline your business isn't an all-or-nothing effort. If you're time-starved or cash-strapped, you start small. Over time, a marketing automation strategy will help you be in the right place at the right time.
You find a solution for a single problem, like a social media or email marketing automation solution. Master that solution. Reap the benefits of better results with less time invested, then look for another solution for another problem.
Before you know it, you'll have most of your marketing automated.
Women Conquer Business specializes in marketing coaching, consulting, and implementation. If your marketing needs a little help, contact Women Conquer Business for our services today.