Table of contents
ClickFunnels Review ★★☆☆☆
Business owners looking to take their sales process online with landing pages and sales funnels will no doubt run into ClickFunnels. Users proselytize its greatness all over the Internet. Its marketing focuses on new business owners and non-technical entrepreneurs; however, to successfully implement ClickFunnels you will likely need support staff, a seasoned ClickFunnels expert, and an ad budget in addition to the $97+/mo. subscription. Even with a team in place, learn why you should ignore the hype. You'll also learn which products on the market offer better, more reliable tools with advanced features.
This is not another ClickFunnels love story.
I first came into contact with ClickFunnels in 2017. A former client became obsessed with ClickFunnels, bought the Etison Package (now called CF Platinum) for a whopping $297 a month, which was a stretch for her budget.
She couldn't get it to work.
Like many business owners, she hadn't clearly defined the customer journey through the sales process digitally. She decided to buy ClickFunnels and figure it out later.
I still remember meeting her at a coffee shop. Her first words weren't about her frustrations (this is unheard-of in my field).
Instead, it was about the genius of Russell Brunson, CEO, ClickFunnels.
And what a great business opportunity it would be for me. She can't get the product to work, and she wants me to buy it. From her. Using her link. Of course. Then she told me everything that wasn't working. And could I please fix it?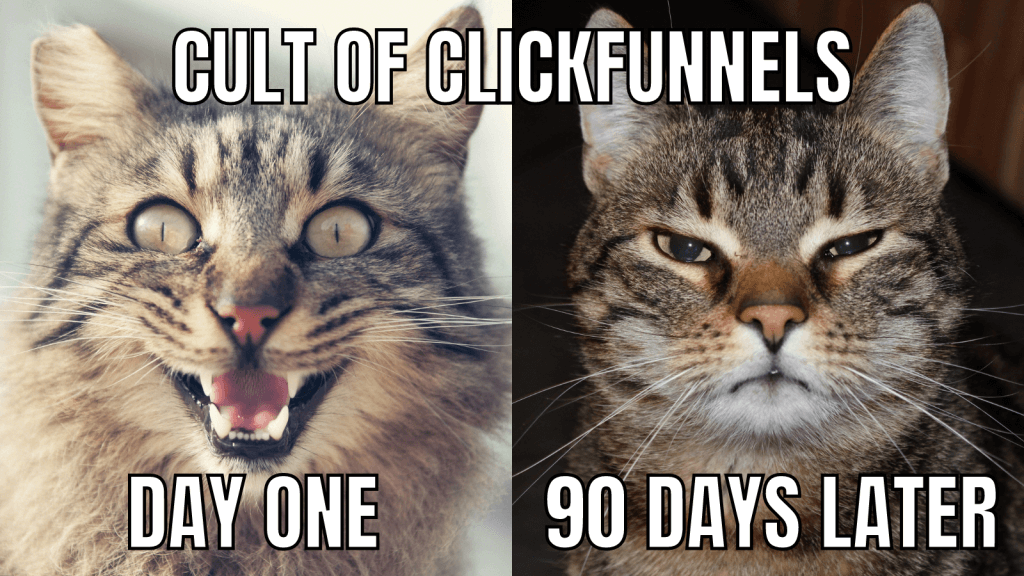 What is the Cult of ClickFunnels?
Before discussing product particulars, let's talk about the Cult of ClickFunnels.
The Cult of ClickFunnels isn't necessarily why I don't recommend ClickFunnels. Rather, it's a business model and marketing tactic you need to understand because it's less about creating the premier sales funnel and landing page software and more about creating a following and a community.
Russell Brunson is an interesting cat. He's from my hometown, Meridian, Idaho. While I was off playing softball, Russell became obsessed with junk mail. I do not regret choosing softball over junk mail. Early in my marketing career, I designed junk mail for a couple of years. As a result, I fundamentally understand how it works psychologically to grab attention and make sales.
Best ClickFunnels Review: ClickFunnels Seduces Busy, Non-Technical Entrepreneurs With an All-in-one Marketing and Sales Funnel App. Learn 3 Reasons to Avoid the Hype. #clickfunnels #marketing #review

Click To Tweet
Brunson became infatuated with sales letters, video sales letters, landing pages, squeeze pages, upsells, and the like. He parlayed that obsession into the software called ClickFunnels. If the story ended there, we probably wouldn't know Brunson's name because the focus would be on the software. But, no, Brunson also understands the power of community, buzz, and giving customers skin in the game.
In my digital marketing classes, we teach that testimonials, good or bad, have the same power as a friend's word. That's research, not my opinion. It's insane to me that most people give online reviews the same weight as a friend advised them.
ClickFunnels is an excellent case study in the power of testimonials and reviews.
Brunson took reviews and testimonials one step further. His goal is to have your friends tell you how great ClickFunnels is. And he will pay you and your friends a lot of money to do it.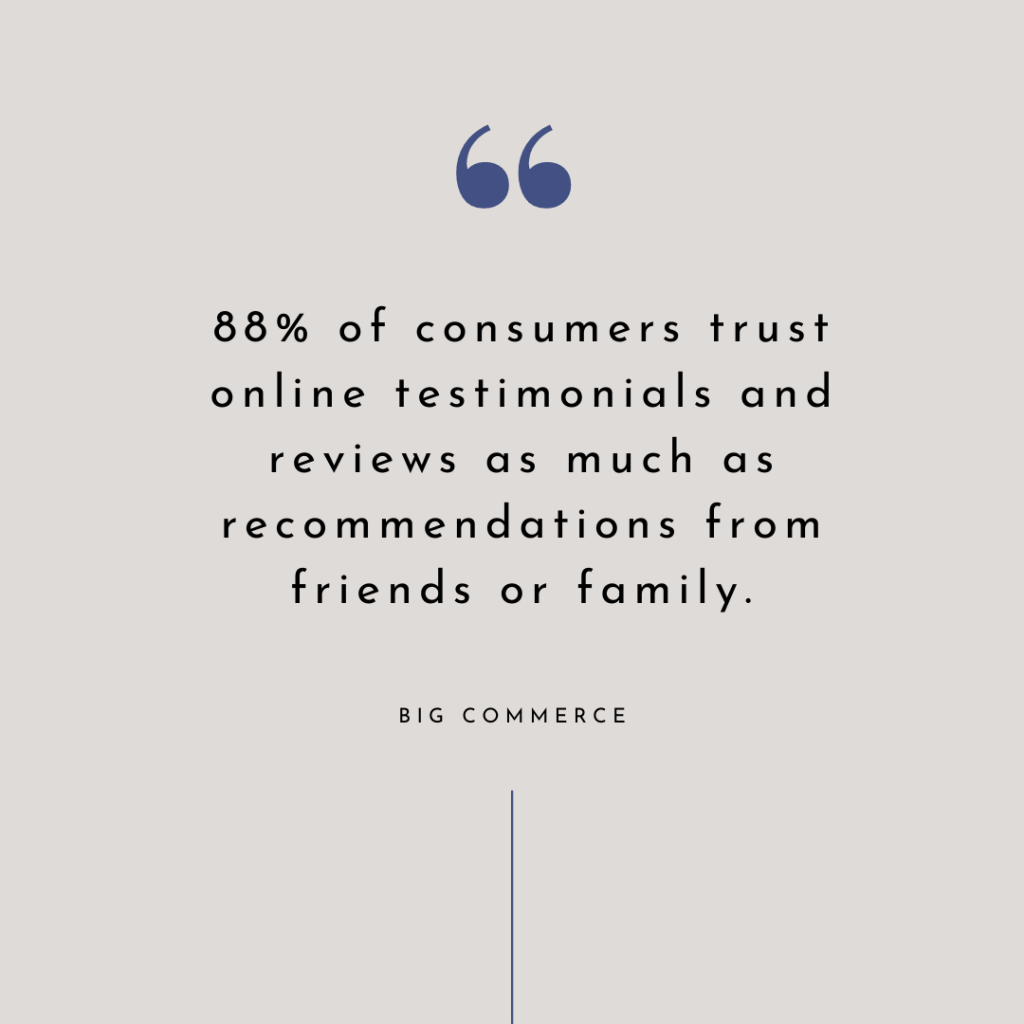 There are generous affiliate marketing programs, and then there's ClickFunnels.
Affiliate marketing typically involves clicking on a link in a blog or an email.
If you buy the product, the person who shared the link gets a small fee. By law, bloggers must identify affiliate links ( but they often don't). The Federal Trade Commission (FTC) enforces this and educates consumers. (PS – there are NO affiliate links in this post.)
If you do a lot of reading, you've probably seen hundreds, if not thousands, of affiliate links.
Affiliate links aren't uncommon. It's an excellent tactic in advanced marketing. Everyone from Avon to Amazon, all industries and all size businesses, whether it's an affiliate or joint venture, offer commissions to boost sales.
I'm not knocking the process. It can be an excellent way to get the word out.
But let's be clear. ClickFunnels is closer to Amway and Herbalife than your typical software as a service (SaaS) company.
ClickFunnels' affiliate marketing program is generous and explained exquisitely like a beautifully crafted piece of junk mail.
That's not what makes its affiliate program unique or even attractive.
It's not that six affiliates have made over $1 million from affiliate commissions.
It's not that they also give away "dream cars" to top-earning affiliates.
No. What makes their affiliate program unique is they speak directly to the entrepreneur who wants to make a little side cabbage. (Although, I am heartened that they're talking about how to be an ethical affiliate.)
In addition, they appeal to small business owners about how being an affiliate can change your life.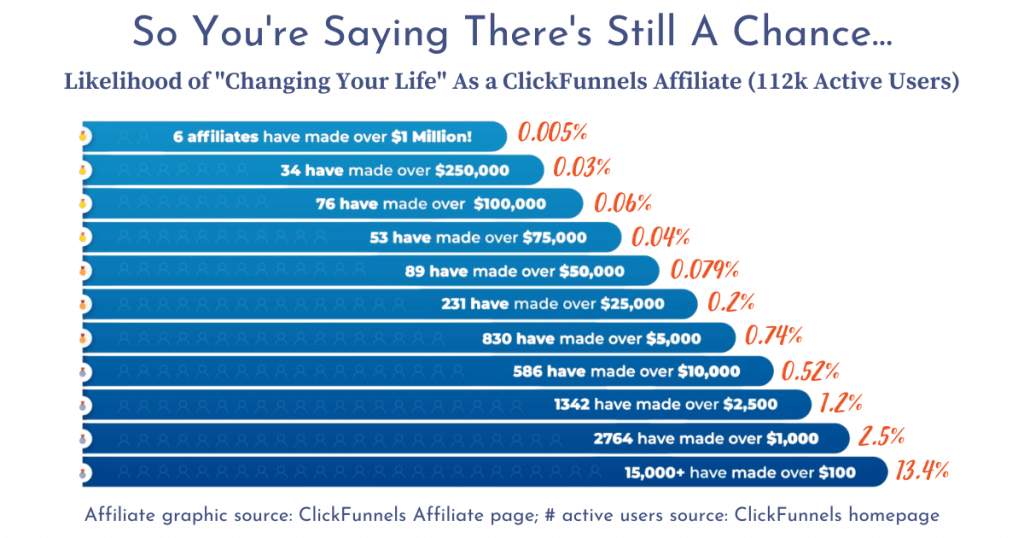 Ah, The Cult of ClickFunnels. Almost multi-level marketing (MLM) in disguise.
Once I realized it was almost like an MLM, it explained my former client proselytizing, selling the virtues of ClickFunnels while at the same time needing help because she:
Can't get it to work,
Doesn't have a clue about what it can do for her business; and
Jumped in without considering whether it's a good product.
But all she needs are five people to join the Cult of ClickFunnels, and she's more than paid for her $297 per month account, assuming that those people stick with ClickFunnels (and this is a big if).
A Tier One affiliate gets 20% in recurring income. Tier Two, 30% recurring, and Tier Three, 40% recurring.
The intention here is not to throw shade at ClickFunnels. It's brilliant for ClickFunnels.
The company claims to have paid out over $100 million in affiliate fees. It's an affiliate marketer's dream. It's also a powerful seduction for entrepreneurs.
ClickFunnels' marketing is next-level Tony Robbins-style sales (Russell Brunson and Tony Robbins often hit the stage together). In short, it's wildly effective marketing for your alligator brain. That's why it's critical to pause before buying.
The Cult of ClickFunnels isn't about the product at all.
Not features, not functionality.
Not value.
It's about being part of a community. A community that's "changing the lives of entrepreneurs."
DUDE.
Who doesn't want to be part of THAT?
I get excited even thinking about it.
HOWEVER, there's a big difference between a great community and powerful software that takes your business to the next level.
On that front, ClickFunnels doesn't deliver.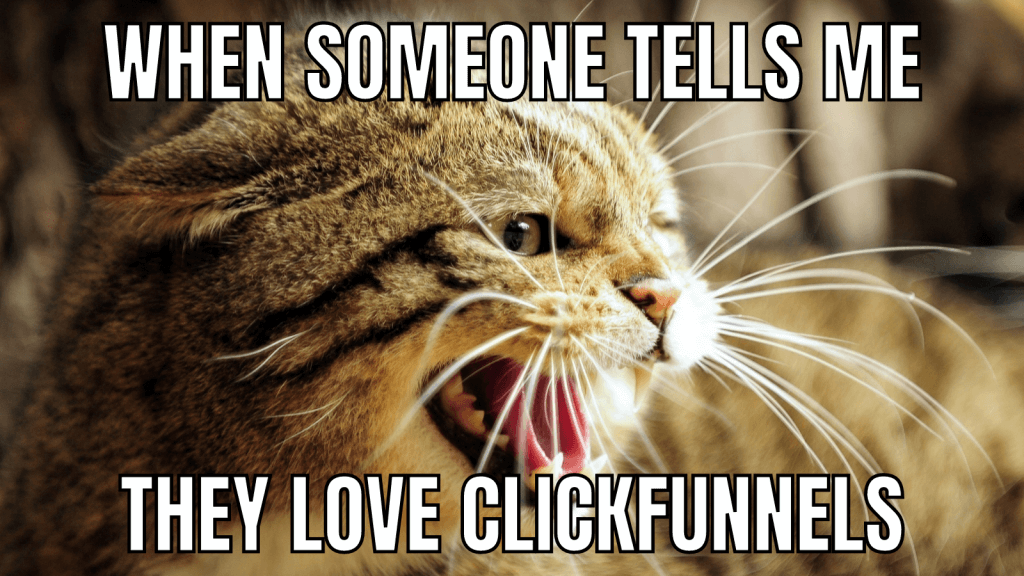 Here Are the Top 3 Reasons Why I Don't Recommend ClickFunnels
#1: ClickFunnels Cost (Hint: It's Overpriced)
ClickFunnels has three pricing levels: ClickFunnels Basic ($97/mo.), ClickFunnels Platinum ($297/mo.), and Two Comma Club X ($2,497/mo.), making it an annual expenditure starting at just over $1,100 or a little over $3,500 up to a whopping $30,000.
The value isn't there.
Remember what I said about 20%-40% in affiliate commissions? ClickFunnels' cost makes up for the generous affiliate marketing approach.
If you discount the base plan of $97 by 40% (tier three affiliate), it becomes more competitively priced at $58.20/mo. but provides less overall value than its software competitors.
Better ClickFunnels Alternatives
For example, Leadpages Pro clocks in at $59/mo. with unlimited pages, text (SMS) campaigns, and integrations. On the other hand, with ClickFunnels Basic, for $97/mo. you have limited funnels (20), limited pages (100), limited users (1), and no follow-up funnels.
If you're a small business getting started with landing pages and sales funnels, the best value is to start with Leadpages Standard at $27/mo. and then decide whether you need to upgrade.
Leadpages is an industry leader. It integrates with Squarespace or WordPress. And, like ClickFunnels, you could also use it as your website (although, like ClickFunnels, Leadpages isn't as good for search engine optimization (SEO) as Squarespace or WordPress).
If you have a WordPress website, there are endless opportunities to find the best software at a lower price.
For around $200 per year, WordPress users can choose between OptimizePress, Thrive Suite, or Beaver Builder. OptimizePress is strictly for building funnels, landing pages, and checkout pages. In contrast, with Thrive Suite or Beaver Builder, you can also use their theme builders to affect the design of your entire website, so it ties in with your funnel design.
For under $100/yr., you can use Elementor and get the same functionality as Thrive Suite or Beaver Builder.
All superior products, built directly on your WordPress website, giving you complete ownership of your products and funnel. Building directly on WordPress also increases SEO capabilities, offers unlimited pages and users, and the ability to retain web visitors on your site. Most importantly, you're in control redirects, so people don't run into those pesky broken links.
Unless you're using a domain or subdomain along with ClickFunnels, you could end up with many broken links, which frustrate and alienate your potential customers.
Here's how it usually plays out. Let's say your company is called Business X. If you don't use a domain you've bought, you might go with: businessx.clickfunnels.com, which is fine, until you leave ClickFunnels, and then the link is broken (lost sales).
Mid-sized companies, agencies, and enterprise companies (or bigger online businesses with a marketing budget) can't go wrong with Instapage or Optmizely, which offer advanced personalization, robust A/B testing and experimentation, collaboration tools, and ad support.
Guess who has one of the most popular landing page builders? MailChimp, where you can build landing pages for free as part of your email marketing. (Although, to get the most out of it, you'll want the Essentials or Standard plan, starting at $10 or $15/mo., respectively.)
Maybe you haven't heard of these companies. It's hard to hear over all the noise coming from the Cult of ClickFunnels — webinars, blog posts, Russell Brunson's books, friends, family, and courses.
What ClickFunnels offers others don't is a bevy of training called FunnelFlix. The courses aren't tutorials to learn the product. Instead, FunnelFlix is about everything else:
Affiliate marketing
List building
10x-ing your funnel
Talks from Jay Abraham and Tony Robbins
FunnelFlix (and FunelFlix Platinum) overwhelms you with resources that add to the perceived value of the product. But, unfortunately, it also seduces you with access to the Cult of ClickFunnels (Russell's "secrets," more successful entrepreneurs, etc.).
It's not about the product.
That *might* be OK, except…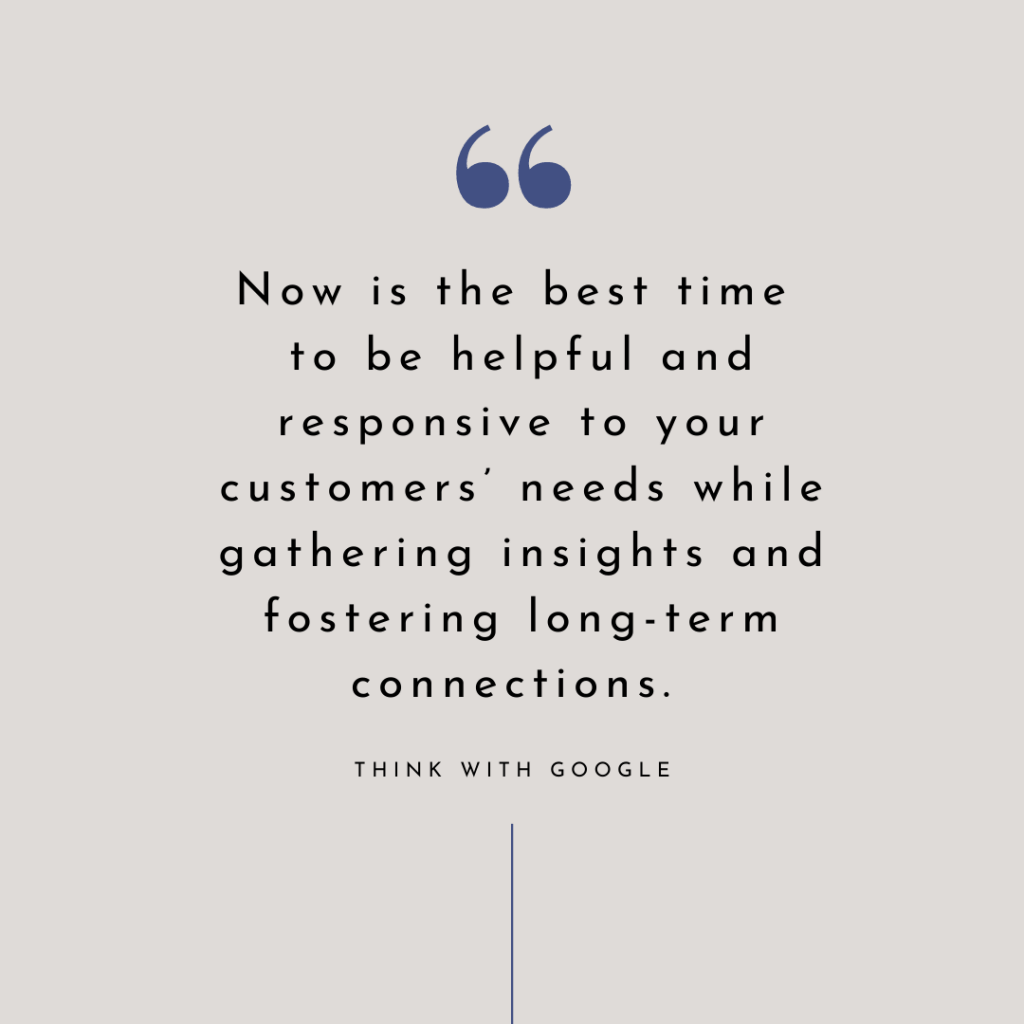 #2: Consumer Expectations Have Evolved Beyond Bro-Marketing Tactics
Most companies have a reasonably straightforward sales process and don't need a complicated sales funnel. Consumers are getting wiser to the tactics employed by ClickFunnels, so it's becoming less and less effective as consumer demands evolve and change.
Since COVID-19, people want a quick, personalized, straightforward online checkout process because we are all online all the time.
Why would it be practical to sell a product using ClickFunnels, where part of your sales process is to try to upsell six other books and a coaching package before checkout?
It's not as effective as it used to be because we're more sophisticated as consumers.
A better, more modern tactic is to create a more straightforward process with a landing page. Then, after the sale, get to know your consumers through personalized email marketing to build trust and make additional sales into the best-fit products.
ClickFunnels represents everything that is not-so-lovingly referred to as 'bro-marketing.'
I love this definition of bro-marketing, written by Martin J. Williams in his piece, Are You Making The Mistake Of Using Bro Marketing Tactics In Your B2B Consulting Business? If So, You Need To Stop … Right Now! "Bro-Marketing can be summed up simply as: Aspiration marketing using inflated imagery or statements to present a desirable future or unmissable value."
It's not only the photos of people on private planes, in front of luxury cars.
Bro-marketing tactics overuse scarcity, luxury, FOMO, 6-figure promises, play mental mind games (like if you don't want to buy, you need to adjust your relationship with money or your mindset). Together, these tactics make you feel like if entrepreneurship is hard, then you don't know the 'right' secrets to get there.
And you have to be willing to pay for access.
The truth is, being a business owner is hard. You will feel the highest of highs and the lowest of lows, sometimes on the same day, heck, sometimes at the same time. If entrepreneurship is hard for you, welcome; you're in great company.
ClickFunnels appeals to our base instincts: God, this should be easier, and for $97/mo. I can generate leads and have access to over $100k of Russell Brunson's secrets. He's successful, so it must be THE WAY.
The Cult of ClickFunnels can be kryptonite to even the strongest entrepreneur at 2 AM when you're tired and want a quick escape hatch.
The truth is, ClickFunnels is neither quick nor an escape hatch.
ClickFunnels is not intuitive, easy to use, quick or straightforward, particularly for non-technical entrepreneurs despite its marketing.
On the whole, as software, ClickFunnels overpromises and underdelivers.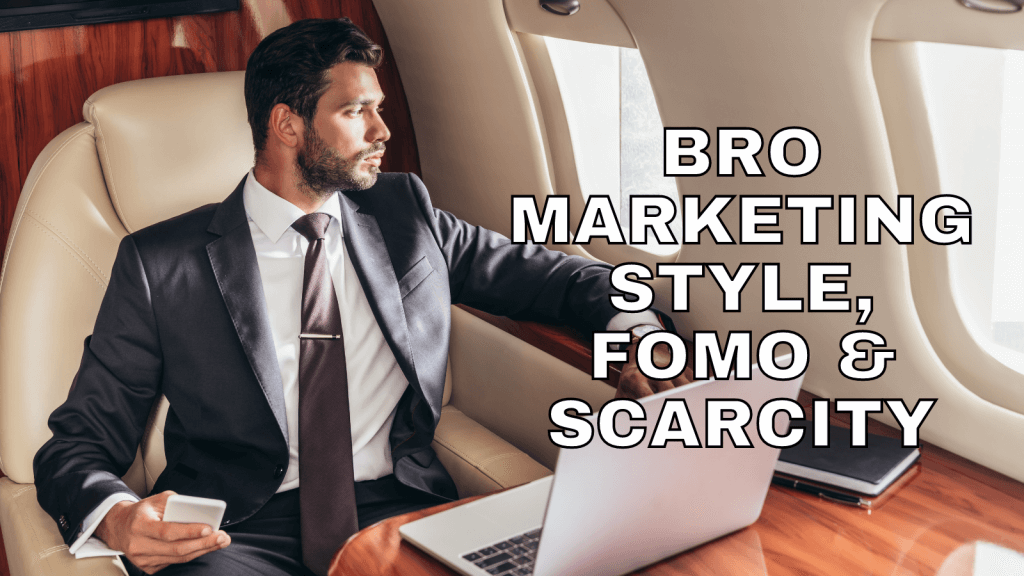 #3: ClickFunnels is Buggy and Lacks Basic Features
I generally have the misfortune of talking to people after the hype has worn off.
When it's a drag on a business' budget at $97 or $297 per month, month in and month out, the other consultant is gone, and the entrepreneur left to his/her own devices manages the account.
ClickFunnels is ideal for the established business owner with multiple complex sales funnels (ideally who needs to duplicate the funnels rapidly) with a marketing budget and a team to manage and monitor the funnels and funnel performance.
It's also essential to have a ClickFunnels expert who knows how to navigate the bugs and limitations of the software. In general, these are the businesses rocking it with ClickFunnels.
The problem is that's not who its marketing targets.
They're marketing to people who don't know what a funnel is — the second headline on the ClickFunnels homepage is 'What's a Funnel?'
Long story short, a sales funnel reflects your sales process from when they find out about a particular product or service through the payment process. ClickFunnels is one of many pieces of software that digitizes the process.
Sales funnels take time and careful planning to implement.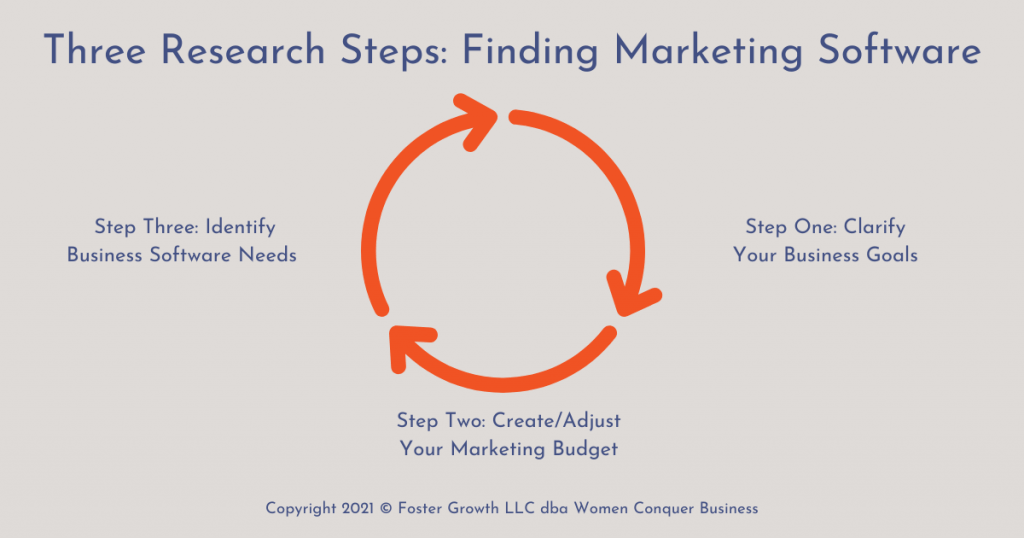 Before investing in sales funnel software, go through these simple steps first:
Step One: Get Clear About Your Business Goals
Your marketing is merely an extension of your business. So when we talk about digital marketing, it's a translation of your business from in-person to online.
The more you know about your business goals, who you serve, and how you wish to help them, the easier it is to market your business (and find the right tools to do it!).
You might find that after reviewing your goals, the timing isn't right to take on something new that could potentially take you or your team away from more significant priorities.
Step Two: Create a Marketing Budget
Many business owners think they're 'too small' for a marketing budget. Or they don't think they spend money on marketing because they're not buying ads — this is faulty thinking. ClickFunnels is expensive, and it helps market your business. Shine a light on your money, and it will help you grow.
This step includes identifying what software you currently have and how you're using it. For example, are you already using something that creates landing pages? Are you using it? If so, start there before making a new software investment.
Often, in my work with clients, I find duplicates — several applications that do the same thing or parts of the same thing. So look at the software you're using now, and consider your upcoming initiatives (that's part of what you're doing in step one of this process) before purchasing.
Step Three: Identify Business Needs
If you've taken a look at your business through the first two steps, you'll see the real magic is in step three. Why? Because you've looked at your business goals and considered the money you have to get there. Now, you can take a look at your business needs.
What will become apparent in steps one and two are whether your business is running as smooth as butter or you're witnessing some gaps that need to be covered. Those gaps are essential to take your business to the next level.
Here's a Few Places Where ClickFunnels Falls Short
1.    No Native Coupon Codes
A few months ago, a colleague reached out and asked if ClickFunnels did coupon codes. I dashed off a reply saying I assumed so but to give me a few minutes to follow up.
Technically, you can add coupon codes; however, adding several products on the backend and copying code from FunnelU to get it to work. In short, you can have discount coupon codes, but you have to be somewhat technical, watch a few YouTube videos, and add a bunch of hidden products.
Outside the Cult of ClickFunnels, coupon codes are a standard item included in any shopping cart (e.g., Square, PayPal, Sam Cart, Thrive Cart, etc.). You have every right to expect coupon codes to be easy and included.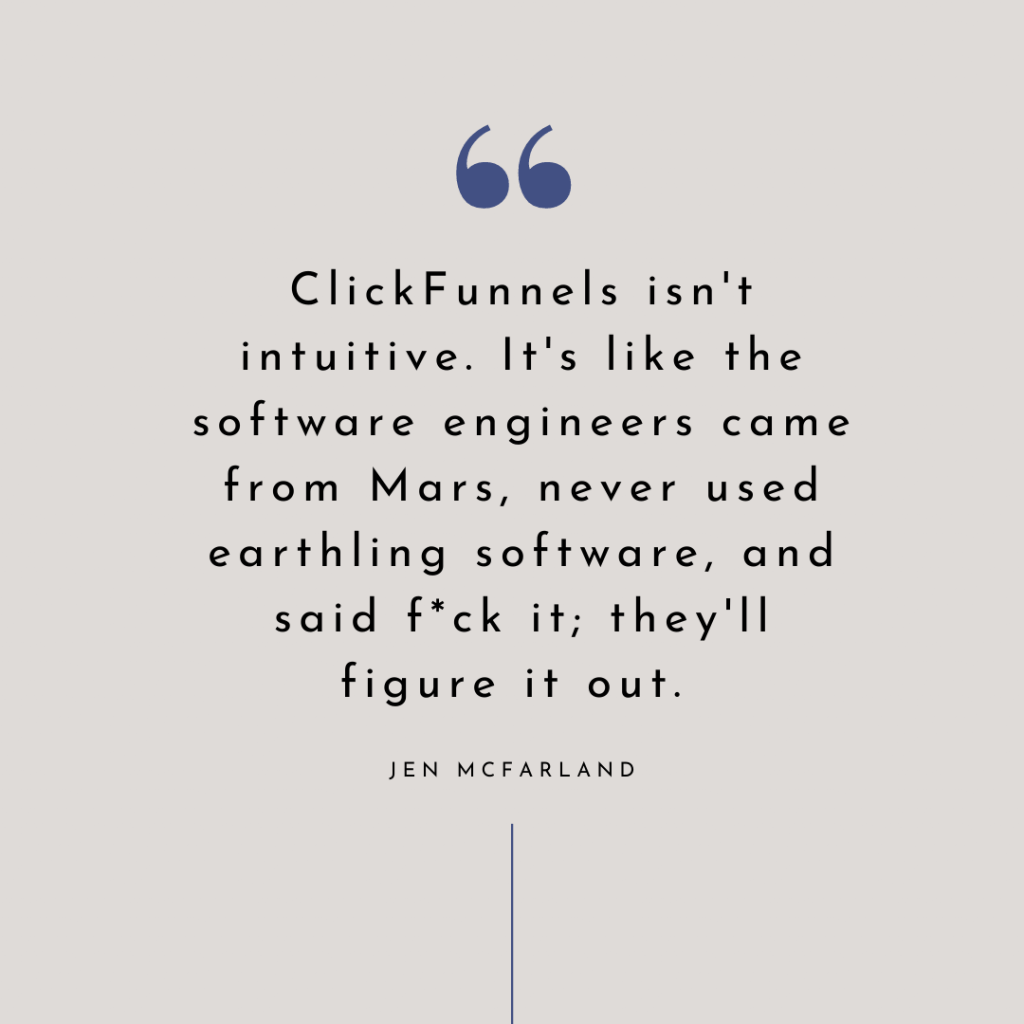 2.    Insane User Experience
The interface constantly changes. If you're not using it every day, you could easily get lost amidst the changes. This constantly changing environment is not easy for non-technical entrepreneurs. Consistency helps efficiency.
The software is also not intuitive, as if the software engineers came from Mars, never used earthling software, and said f*ck it; they'll figure it out.
Trust me. It should not be this hard.
3.    Bugs and Outages
Despite being founded in 2014, its software stability continues to feel like you're riding the bike as they build it. When I worked in software development, our team learned the hard way not to do this — tacking on features and putting out fires without a plan or destination — it's bad for your users and bad for business.
Not having coupon codes is a bug. They've created a workaround, but not an actual fix.
This "review" says the only way to know if your pages are all working is to check frequently. He also talks about annoying system outages that affect leads and ads (I call it a "review" because he still gives it 4 out of 5 stars and includes his affiliate link).
This review from a former ClickFunnels user explains issues with automated webinars, membership site functionality, poor integrations, horrible ClickFunnels support, and false affiliate marketing program claims. Experientially, these bugs also resonate with my experience repairing marketing funnels or migrating users off of ClickFunnels. Even the signature feature, duplicating funnels, is buggy at best and a mess at worse.
These are not issues I expect to find in well-established, widely used software.
You and your business deserve better.
4.    FunnelFlix, Dot Com Secrets, etc.
The course bonuses are Tony Robbins style, hurry, run to the back of the room to sign up, upsells into something else (AKA bro-marketing). The value of the courses is overblown.
Spend your money using a paid LinkedIn account to access lessons on LinkedIn Learning or even going through a program at the Small Business Development Center in your local area. There are also fantastic membership groups and communities online that are far cheaper and much more effective at helping you build your business.
Final ClickFunnels Review: Not Recommended
Overall Rating: ★★☆☆☆ (inflated pricing, company not focused on the product, buggy and lacks features, might fit a company with a staff and budget wanting rapid deployment of similar funnels)
Pricing: ★☆☆☆☆
Marketing: ★☆☆☆☆
Features: ★★☆☆☆
Stability: ★★☆☆☆
The Cult of ClickFunnels isn't why; it's because their price point is too high, and consumers have evolved past bro-marketing tactics. ClickFunnels also falls short in features, customer service and is buggy at best, experiencing and outages at worst.
The Cult of Clickfunnels is harmful to business owners because it suckers you into a community who "love ClickFunnels" (or at least the promise of ClickFunnels) using bro-marketing techniques to seduce you into 'changing your life' injected with urgency and scarcity that discourages researching other products on the market. So do your homework before jumping in.
Research and consider what you need and what you can afford before investing in your business. Talk to experts, and dive deeper than the hype. I'm happy to answer any questions you might have about choosing digital marketing software or developing a strategy that will work best for your business's needs.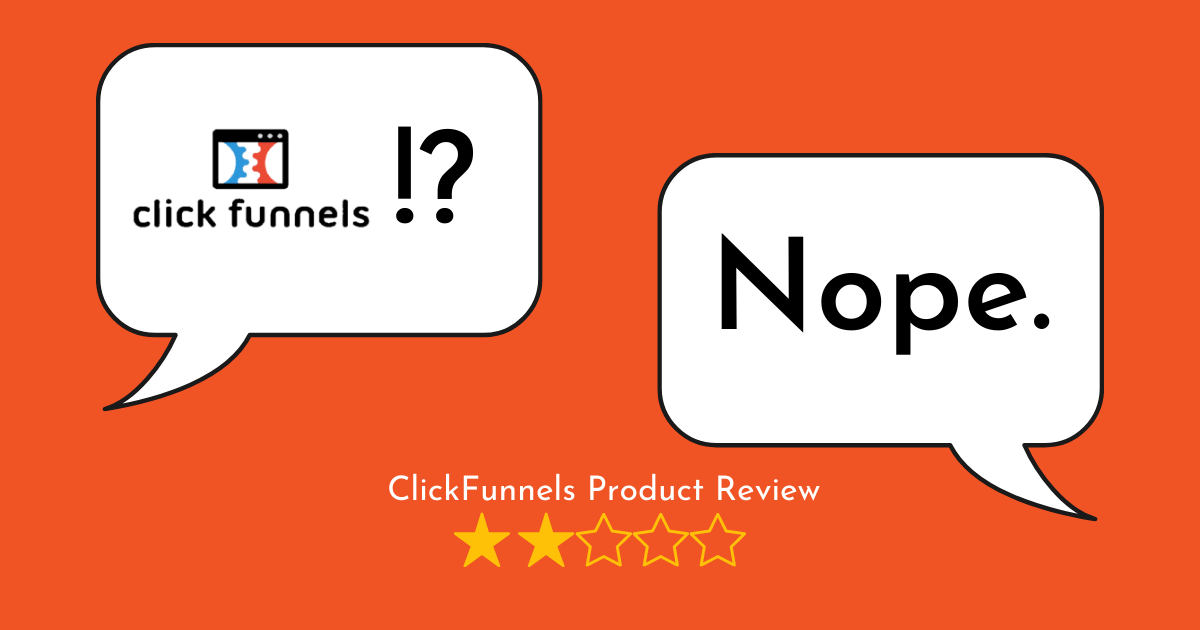 ClickFunnels
Rationale: Inflated pricing, company not focused on the product, buggy and lacks features, might fit a company with a staff and budget wanting rapid deployment of similar funnels. Two stars because if you have a team to execute an advanced marketing sales funnel strategy, ClickFunnels may work for you.
ClickFunnels