I love doing local SEO.
And since I love doing SEO, I have a handful of tools I use over and over again. They have become part of my SEO habit, and I recommend them to anyone and everyone.
Here are my 3 favorite non-technical small business SEO tools:
ChatGPT (free+): If it seems like everyone is talking about AI writing tools and ChatGPT, it's because they are. Yes, you can use it for straight-up writing (the results are dull, IMHO). Instead, ask it specific questions about your target audience's pain points, industry trends, or common customer questions (then update your website and Google Business Profile with your answers).
Google Business Profile (free): Controversial choice? It shouldn't be. Although Google faces headwinds (lawsuits, Bing's chat search, etc.) it doesn't change the fact that Google gives small businesses a free space to describe their business products and services, provide photos, create FAQs, collect reviews, and post events and specials. A current, customer-facing Google Business Profile can increase leads by 5%. Take advantage of it.
Google Search Console (free): Yes, you still need Google Analytics (I prefer Plausible), but for EASY answers to things like "what keywords are people using to find my website?" Google Search Console is where it's at. It's also where you submit your XML sitemap to Google. There are also many technical reasons to love Google Search Console, but I'll save that for another time.
(I also love Mangools (simple keyword research), SEO Minion (free plugin to check broken links), and Surfer's AI Article Outline Generator)
If you use these tools, let me know what you think!
Curious About DIY SEO?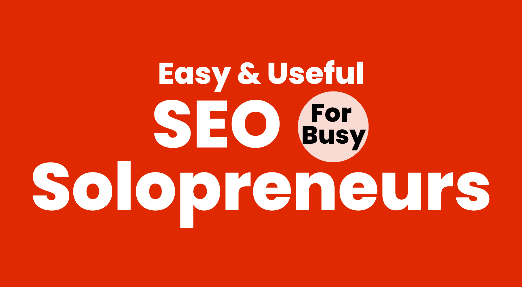 Easy SEO for Busy Solopreneurs
Learn how to improve your business's search visibility and drive more of your ideal customers to your business.
In this 1-hr. training event, you will learn:
What SEO is and why it's essential for your business
How to find the best words to describe your business and services to attract your ideal audience (that will also help you bubble up in search)
Simple and effective website updates you can make to improve your website's ranking
Actionable steps to move you forward
Enroll Now
Recent Marketing Articles
DIY SEO Made Easy: 5 Tips to Get You Started
Unlock the Importance of SEO for Small Businesses & Thrive!
What's the Difference Between Business and Marketing Goals?
How to Set Marketing Goals: A Small Business Guide
---
💌 That's a wrap.
If…
You enjoyed the newsletter, please share it.
You have a question or comment (or want to say hi!), hit reply.
See you again next week.
Have a great day,
Jen
P.S. Ready To Work Together? Here are 3 ways to receive support:
Marketing Consulting, confidence-boosting guidance with a patient teacher, action-oriented goal-setting, and accountability in a safe, confidential space.
Get a Marketing Blueprint to position your business for future growth.
Join my Marketing Membership because marketing alone stinks — set your goals, get support, and dedicated time to work.