Summary: Successful Business Women in History
In celebration of Women's History Month, and the start of the baseball season (soon!), I wanted to profile Effa Manley, a baseball pioneer, Hall of Famer, and fantastic businesswoman who also fought for civil rights.
I discovered who Effa Manley was on a Writing on the Rails trip with Johnnie Mazzocco when I wandered into Ebbets Field Flannels where they happened to be celebrating women's baseball. (This is also the store I talk about during the show where I bought the Effa hat.)
I started digging more into Effa Manley's life and I knew I needed to profile her on an upcoming episode.
She's a woman who got things done, not only advocating for the Negro Leagues as an owner but to also preserve the history of the Negro Leagues for generations. She was also a key figure leading to the enshrinement of several Negro League players into the Hall of Fame.
Even if you don't like baseball or sports, this is a special episode that will inspire you to follow your dreams even if the world calls you a "furious woman" (like they did Effa), or everyone thinks your ideas are super crazy. Keep at it.
A fantastic woman who rocked it in business and who will inspire you.
Words of Wisdom
Effa Manley is one of the most successful businesswomen, baseball pioneers, and Civil Rights activists you've never heard of. — Jen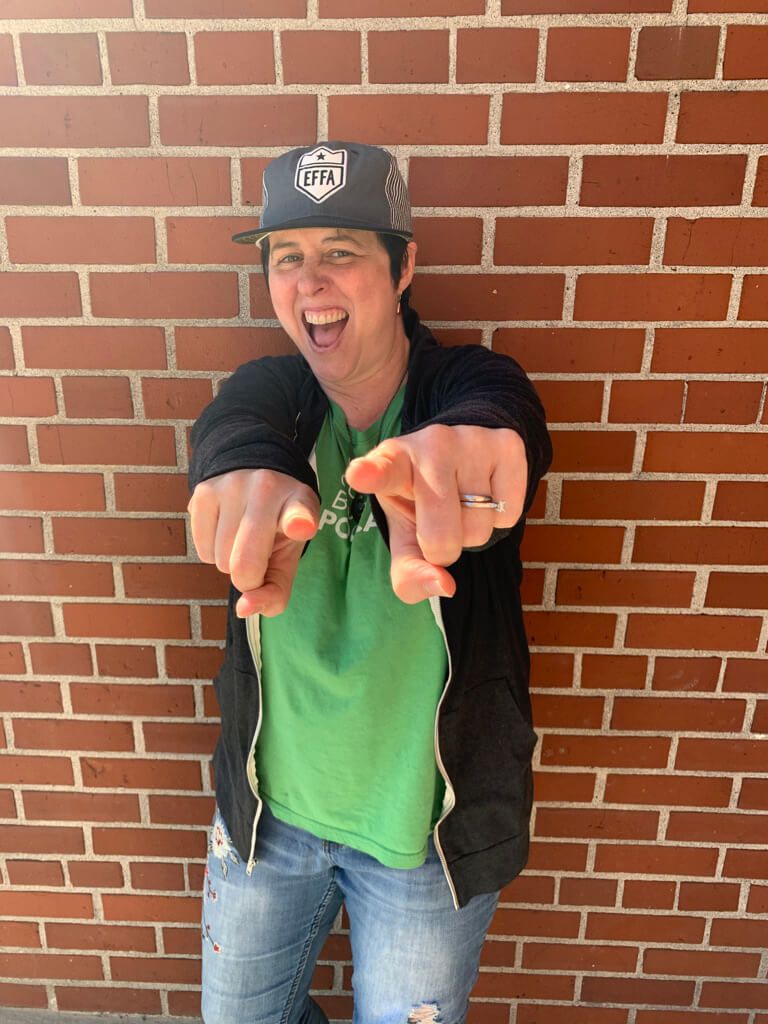 References
Effa Manley, National Hall of Fame
Ebbets Field Flannels, The Effa Collection
Effa Manley, Society for American Baseball Research
The Most Famous Woman in Baseball: Effa Manley and the Negro Leagues, Bob Luke
Transcript: Effa Manley, Successful Business Women
Jen:
Hello and welcome to Women Conquer Business. I'm your host, Jen McFarland. In this week's show we're going to change it up a little bit. We're going to talk about a historical woman in business who did some really cool stuff. Her name is Effa Manley, and you're going to learn all about her, coming up next.
Jen:
Welcome to Women Conquer Business. My name is Jen McFarland. This podcast is for smart, serious, business owners, tired of the senseless chatter about growing a business. If you don't want to hear any more, get rich quick, too good to be true nonsense. You've come to the right place. You'll learn why mindset is everything, as well as strategies for sustainable business growth and how to implement it. Along with the secrets I learned leading large scale business projects, that also apply to five and six figure businesses. Are you ready? Let's go forth and conquer.
Jen:
One of the things that you may not know about me, is I'm a huge baseball fan. I love all forms, all types of baseball. I have been to the World Series when I lived in Arizona. And when I lived there I also went to as many spring training games as I could. And one year we even had season tickets for Arizona State, because why not? The weather's good there year round, we can watch a lot of baseball. And we're also MLB Extra Innings people. So, we're baseball nerds, how some people are football nerds, and some people hate all sports, I love baseball. I think it's because I love all of the strategy and the statistics behind it, and the predictability in some cases. And the games are just beautiful and wonderful. And my husband loves it just as much as me.
Jen:
And we actually have friends who come over and watch games with us as often as they can. We call them our baseball family. And it's just one of those joyful gatherings that we love to have. So, baseball is a big part of our lives. One of our recent visits to Seattle, Washington, which is about three hours away from our home in Portland, Oregon, we discovered this really cool shop called Ebbets Field. We just found it, we didn't know that it had been around since the late '80s, early '90s. And we bought all kinds of historical baseball stuff and bought gifts for our friends and stuff. So, fast forward a few months and probably a year, this was only a few months ago, I took a train ride called Riding on the Rails. It's an event put on by my friend and colleague Johnny Masuko here in Portland.
Jen:
And the task was simple, it was just write as much as you can about whatever you want on the train from Portland to Seattle. Hang out with everybody else who's in the group for lunch, talk about what you're writing about or not, and then you've got some free time. And I hung out with people for a while and then I just really felt like taking a long walk. So, I was wandering around through the Pioneer Square area of Seattle, and I came across Ebbets Field again. Ebbets Field Flannels is the name of the store. And it started, like I said, in the late '80s when the owner, Jerry Cohen decided that… He was on a mission, he wanted to find an original wool uniform and all of the flannels dating back from the 1940s. These are the original flannels that were used for baseball uniforms, which, why you would wear a flannel uniform when baseball is played in the summer is beyond me.
Jen:
It's like why do baseball players still wear belts? That's always been something I've been curious about. Doesn't it hurt when you slide? I don't know. So anyway, that's Jerry Cohen and he has this little shop. Well, I didn't know that the shop had been around forever, so I'm wandering around Seattle, I'm like, I wonder if I can find that shop. I wonder if that store is still there. That was a really cool store. And I'm having this whole like internal monologue, turn the corner, find the store and then walk up, look at the window and go, Oh, oh, my pocket book is in some serious trouble right now. So, I roll up, I see a poster that looks like, A League of Their Own, which is one of my favorite movies. And I realize that the store is having a special, where half the store is for women's baseball. Now, if you haven't seen A League of Their Own, that's about the time during World War II when there were women's professional baseball teams.
Jen:
And the story of that is about, all of these women who were playing professional baseball while the boys were away, and then the league disappeared after the boys came back. And it just shows how sports is for everyone. But there's a scene in, A League of Their Own, that shows that at that time sports really wasn't for everyone. So, the lead character is the catcher for the Rockford Peaches, and a ball gets away and she holds up her glove. And an African American woman, I mean, fires it back at her like Gina Davis, that's the character, has to take her glove off because there's so much pepper on the ball. And she nods at the African American woman, and the African American woman and her friends nod back, like not everyone gets to play. So, the cool thing about what Ebbets Field Flannels did, was they didn't just talk about the white women who were playing. They talked about all women who were playing.
Jen:
And in fact the Negro leagues that were going on at the same time. And I kept seeing inside this shop Effa, Effa, Effa, and I'm like, what is this? So, I get up to the cash register with all kinds of stuff because, women's baseball, Jen McFarland, baseball, women, baseball. Yeah, I'm going to spend a lot of money in this shop. Right? And I'm like, who's Effa? And they're like, Oh, because it was the EFA collection. Well, so that's when I learned who Effa Manley was. And she was the co-owner of the Newark Eagles, which was a Negro League Baseball team. Because not only were African Americans banned from the women's baseball professional leagues, they also were banned from Major League Baseball until Jackie Robinson. But that doesn't mean they weren't playing professionally. They had their own league.
Jen:
So, let me just tell you what the Effa collection is at Ebbets Field Flannels. It says, "For years we've been wanting to highlight the diverse mix of women who pioneered in sports history. Here we start as baseball with the introduction of the Effa collection, named after the one and only Effa Manley, a superstar powerhouse in her own right. All of these women from varied backgrounds, age and levels of experience, share one thing in common, tenacity." And I was like, I'm sold, I have to buy something that has Effa's name on it. So, I have a hat, a wool hat, that says Effa and has a big star on it. And I'll be sure and put that in the show notes. So, the thing about Effa Manley, is she was a tremendous woman in business who broke down a lot of barriers, not just in baseball but also in civil rights.
Jen:
So, you'll have to bear with me a little bit, because I usually don't read what I'm going to talk about for the podcast. But I don't have Effa Manley's life completely memorized, believe it or not. So, I will be reading some of the different stories and things that I've collected about this woman's life, because it's an interesting portrait of what tenacity can do for you as a woman. And I think that it's important to know about all these women in business that maybe we have never heard of. I had certainly never heard of Effa Manley and I've been a baseball fan my whole life. I don't remember her being talked about in Ken Burns' baseball, in any of the readings that I've done. And here she is, she is the only woman ever inducted into the Major League Baseball hall of fame.
Jen:
And yet, I didn't know about her until a few months ago. So, here it is, a little bit more about Effa Manley. Effa was born in Philadelphia, Pennsylvania in 1897. She started changing that date of birth to 1900, around the time she married Abe Manley in 1935. This is the first of several, shall we say, tales that Effa like to tell. Like, Oh, I'm just going to shave three years off in my life, be a little younger. And then we'll find out a little bit, well, now that there was some questions about her race as well. Most assumed Manley's stepfather was her biological father, and therefore classify Effa Manley as being black. However, according to the book, The Most Famous Woman in Baseball by Bob Luke, Effa was born through an extra marital union between her seamstress mother, Bertha Ford Brooks, and Bertha's white employer, Philadelphia stockbroker, John Marcus Bishop. Darryl Russell Grimsby wrote "Some insists she was white, exposed to black culture who identified as black, regardless of her ethnic origins, Effa Manley thought of herself as a black woman and was perceived by all who knew her as just that."
Jen:
So, there are also some stories where her husband, or that time, maybe her fiance, Abe, took her into Tiffany's and everyone thought that Effa was white. And she let them think that. And she got a kick out of her husband buying her a five carat diamond ring, and having all of these caddy women working at Tiffany's, talking about him buying a big ring for his white girlfriend. So, Effa liked to play a little bit with her race. And she was known to tell people sometimes that she was white, and at other times to tell people that she was black. I think that it's important to know that she was a champion for a lot of different people. And I don't think her life was entirely easy. So, in 1932 there was a major change in Effa Manley's life.
Jen:
She was a baseball fan who rooted for Babe Ruth and the New York Yankees. But it's also in 1932 when she met her second husband, Abe Manley, at the 1932 world series. On November 13th in 1934 the National Negro League owners awarded Abe franchise, the Brooklyn Eagles, the team played at Ebbets Field, not the Ebbets Field Flannels store, but the actual Ebbets Field, the home of the major league, Brooklyn Dodgers. The Eagles had a lot of really famous players, some of whom ended up in the Major League Baseball hall of fame including Leon Day, Rap Dixon, Ted double-duty Radcliffe, because baseball players always have cool names. And Abe Manley may have owned the Eagle's franchise, but it was actually Effa who would oversee the day to day management of the team. And that's where a lot of the business side of Effa comes into play.
Jen:
On their first opening day as Eagles owners, Saturday May 11th, 1935. Effa brought in New York city mayor Fiorello La Guardia, as in like the La Guardia airport, to throw out the first pitch. Then the next season, the Manley's who weren't happy with where they were in the standees the previous year, decided to purchase the Newark Dodgers and then combined that roster with that of the Brooklyn Eagles, and relocated to Rupert stadium in Newark. Now, Abe also had somewhat of a falling out with the owners of Ebbets Field and wasn't going to get as good of a deal at Ebbets Field. So, he decided to move the team to the Newark Eagles to Newark, New Jersey. So, Abe was really good at the people side, like he was a great scout, he liked to talk to people a lot. But it was Effa who was calling all the shots.
Jen:
In fact, by 1939 Effa was in essence doing all of the activities in organized baseball that were the purview of male executives, which honestly is still really just male executives to this day. And really not that many people of color who were executives either in Major League Baseball. So, she was not only a pioneer then, she would actually be considered a pioneer today. She was publicly overseeing the day to day operations, marketing, and fiscal management of the Newark Eagles. She also took over the task of press interviews from Abe. So, she was like the face of the franchise in so many different ways. And is it in addition to assuming those responsibilities, Effa arranged, playing schedules, booking accommodations for players on the road, publicizing the games, purchased equipment and negotiated contracts. She also kept an eye on the behavior of the players, which is so fascinating.
Jen:
Pitcher James Walker said, "Mrs. Manley was the disciplinarian and of the team. She would call you in and tell you how to dress, what to do, who to associate with when you had your problems, and if they were personal you went to Mrs. Manley and she was very understanding as long as you towed the line." In reading all of the things I did in order to understand more about this woman, I think she was pretty clear about what she wanted, and you better do it. I think she was that kind of woman, which is so cool. She also displayed a particular skill in the area of marketing, and often scheduled promotions that advanced the civil rights movement. Effa actively worked in support of civil rights and supported numerous charitable endeavors. She organized boycotts against businesses owned by whites, who would not hire black employees for any position other than that of elevator operator. She raised money for the Harlem Women's Club, which became the citizens league for fair play.
Jen:
Effa pressured Blumstein's Department Store in Harlem not to discriminate in their hiring. Those picketing the store carried signs that said, we won't shop where we can't work. Six weeks after their efforts began, on July 26, 1934, the store owner agreed to hire black women as sales clerks. So, she's out making change in the community and working on running a team. She was also the treasurer of the New Jersey National Association for the Advancement of Colored People. The NAACP. Her work for civil rights was also on the baseball diamond. She hosted an anti-lynching campaign at Roper Stadium, during which the ushers wore sashes that read, stop lynching. Perhaps Manley's greatest contribution as an owner would come in her final years with the Eagles. Following Branch Rickey signing of Jackie Robinson from the Negro Leagues to play in Major League Baseball, Manley fought for compensation for team owners.
Jen:
So, for those of you who don't know, Jackie Robinson was the first African American to play in Major League Baseball. He played for the Brooklyn Dodgers, who are now the Los Angeles Dodgers. And it was a huge, huge, move in integrating professional sports. It also meant that the Negro Leagues would eventually go away, and I think everybody saw that. And so, Manley was fighting for compensation for team owners of the Negro Leagues, so that they weren't left with nothing. So, while all of this is going on, the same year that Jackie Robinson was integrated into organized baseball, it was the best year for the Manley's. They had won the championship of the Negro Leagues, but the 1947 season saw a major drop in attendance for the Eagles, and a reduction in revenue for the Manley's. However, Effa set an important precedent for major league teams that signed players from the Negro League. When Bill Veeck, who's the owner of the Cleveland Indians, offered to purchase the contract of Larry Doby from the Eagles for $10,000, the Manley's knew the offer undervalued Doby, but they didn't want to appear to stand in the way of integration.
Jen:
Ever the business woman, aware of issues of race, Effa Manley responded to the offer by saying, "Mr. Veeck, you know that if Larry Doby were white and a free agent, you would give him $100,000 to sign with you merely as a bonus. However, I realize I'm in no position to be bargaining with you. If you feel you've been fair by offering us $10,000 I suppose we should accept. Veeck offered an additional $5,000 if Doby remained with the team for 30 days. Effa also insisted that Veeck offer Doby $5,000, which was more than the $4,000 salary he earned with the Eagles. Veeck agreed, and Doby integrated into the American League when he joined the Indians on July 5th, 1947. So, let's break that down for a minute. Here's a player. He later was enshrined in the baseball hall of fame, who if he were white, would get $100,000, this is in 1947. And they only wanted to pay 10%, $10,000 to the team. So, not even to him directly. And he ended being paid $5,000 which was more than he was making with the Eagles, but significantly less than his white counterparts in the major leagues.
Jen:
So, this is the very beginning of integration. Manley's fighting for the rights of players and owners. And she did that throughout her career. In fact, she pushed the envelope to develop a better league. She was a voice of change among the Negro League owners. "Mrs. Manley knows a few things about baseball, and most of the men club owners could take a few tips from her. She's a good business woman." This is what a field reporter wrote about her before the end of the Negro Leagues. So, after they sold the team, and then the Negro Leagues shutdown, Abe Manley died in 1952. Effa was married four times in total. Once, before Abe, for just a few months. And then twice after Abe, also for a few months. She married Henry Moten Clinton and then Charles Wesley Alexander for about a year. But her work with the Negro Leagues didn't stop when Abe Manley died. She worked hard to preserve the history of the Negro Leagues and to celebrate their best players.
Jen:
In 1976, she collaborated with Leon Herbert Hartwick, to write Negro Baseball Before Integration, which was one of the earliest publications about Negro League Baseball. She pressured Fred Claire, the Dodgers publicity director, to recognize Negro League players, and also supported efforts to include them in the hall of fame. In 1971, the Major League Baseball hall of fame created a special committee on the Negro Leagues to elect Negro League players. The committee disbanded in 1977 after electing nine players. That wasn't enough for Effa. Effa began a letter writing campaign with the goal of establishing a new committee to review all players of the Negro Leagues, and to select those to have their names inscribed on a plaque.
Jen:
And then she got hit of course, in the way that we often do as women. So, on June 20th, 1977, the sporting news editor C.C. Johnson Spink penned a full column about the quest of a "furious woman." So, here she is working hard, and being called a furious woman for standing up for the rights of others. How many times does that happen in history? In 1978 Manley attended the second annual Negro League Baseball League Re-union as a special honoree. In 2006, the hall of fame established another committee on the Negro Leagues, which elected 17 more Negro League figures, including Effa Manley, who was the first person ever elected to the Major League Baseball hall of fame. She is still the only woman in the hall. When she found a closed door, Effa kicked it open to improve her league and her team's playing conditions. As a result, she will be forever remembered as a member of the hall of fame.
Jen:
Effa's health was in decline in the spring of 1981. Doctors diagnosed her with colon cancer, and developed peritonitis after surgery on April 8th. In the early evening of April 16th Effa Manley suffered a heart attack and died, at Queen of Angels Hospital in Los Angeles. A funeral mass was held at Our Lady of Loretto Catholic Church. And she was buried at Holy Cross Cemetery in Culver City, California. She has a very, very, simple tombstone that reads, "Effa Manley, she loved baseball." And there is your profile in history, Effa Manley, baseball legend and a wonderful business woman. Thank you for listening to this week's Women Conquer Business Podcast. Talk to you next week.
Jen:
Thank you for listening to the Women Conquer Business Podcast. If you're wondering, what's next? Here are a few suggestions. If you love the show, be sure to subscribe. If you want to follow me on social media, you can find Women Conquer Business on Facebook, LinkedIn, and Pinterest. And finally, if the episode today brought something up for you and you need to talk, email me at hello@jenmcfarland.com. The Women Conquer Business Podcast is written and produced by Jen McFarland and Foster Growth, LLC in beautiful Southeast Portland, Oregon. Thanks again for listening.